The injection moulding machine manufacturer, based in Austria and with a wholly-owned subsidiary in Vietnam, enables customers to overcome their specific challenges and secure competitive advantages by means of custom-made system solutions – and supplying system solutions from a single source plays a part in this. "It is only possible to maximise efficiency and quality potential where all components in a manufacturing cell are perfectly coordinated from the start," points out Nguyen Hieu, Head of ENGEL VN in Ho Chi Minh City. Injection moulding machines, automation and process technologies are developed and manufactured in-house. To integrate other peripheral units and moulds, ENGEL has established a global network of system partners.
"In Asia we have very strong partners who can implement ideal solutions because they also understand the needs of local processing firms intimately," says Kurt Hell, Manager of ENGEL's Packaging and Medical Business Units in Asia. "By working with Asian suppliers, we guarantee high cost efficiency even for most demanding applications while keeping delivery times short across the whole system."
Last year, ENGEL appointed dedicated business unit managers for Asia based in Shanghai, China. With this new structure, ENGEL can support its customers in various industries even more targeted in solving their very individual challenges.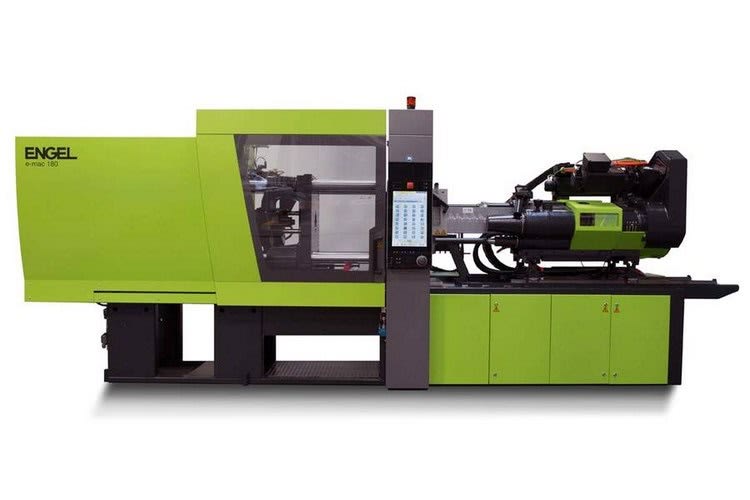 The all-electric e-mac promises speed and precision as well as highly economical and energy efficient operation
All-electric e-mac: stable and efficient in continuous use
At the Plastics & Rubber Vietnam event, ENGEL will use an e-mac 440/180 injection moulding machine on its stand to produce oval bowls typically used for ready meals. Thanks to in-mould labelling (IML), ready-to-use packaging leaves the production cell. "IML makes high quality decoration affordable while facilitating the efficient production of small batch sizes," says Hieu. The two system partners involved with the exhibit are based in Taiwan. IML automation is provided by JET Engine Automation, while the 4-cavity mould is provided by CNN Plastic System.
Since high productivity requires a dependable, high performance injection moulding machine, the all-electric e-mac is solely equipped with very powerful servomotors. The ejection and clamping are also handled servo-electrically. This guarantees the best possible precision and process stability while maximising the effectiveness of the machine as a whole. In continuous use, the highly energy efficient machine guarantees stable production around the clock.
With the CC300 control unit, the e-mac offers full flexibility for the integration of robots and other peripherals as well as the deployment of intelligent assistance systems from ENGEL's inject 4.0 range.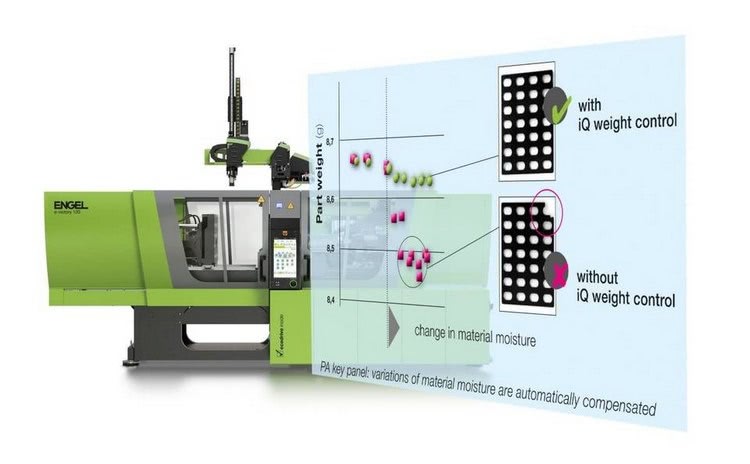 iQ weight control compensates for process fluctuations before rejects are produced