Step by step to the smart factory
The aim of inject 4.0 is to realise the smart factory, in which production processes continually self-optimise through the networking of production systems; the systematic usage of machine, process and production data; and the deployment of intelligent assistance systems. In this way processors can increase the productivity and quality of their production operations while responding with maximum flexibility to changing requirements.
Today, Engel already offers a large number of mature products and solutions for the smart factory providing considerable benefits both individually and as part of a superordinate digitalisation strategy. Thanks to the modular structure of its inject 4.0 program, Engel makes getting started with digitalisation very easy for its customers. Intelligent assistance systems such as iQ weight control, which can be seen live during Koplas at Engel e-victory, are often the first step. In order to compensate for fluctuations in the raw material and the ambient conditions during the running process, the software analyses the pressure profile during injection of the polymer melt and compares the measured values with a reference cycle. The injection profile, switchover point and the holding pressure profile are adjusted to the current conditions for each individual shot, which keeps the injected volume constant during the entire production run. In this way rejects are proactively prevented. Other assistance systems that Engel will be presenting in an Expert Corner during the five days of the fair are iQ clamp control for automatic determination of the optimum clamping force and iQ flow control for dynamically controlled multiple-circuit temperature control.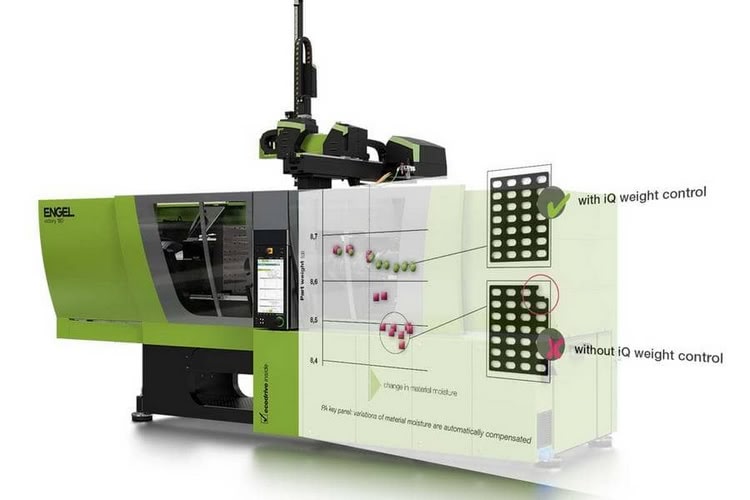 iQ weight control compensates for process fluctuations before rejects are produced. The intelligent assistance system is available for both electric and hydraulic injection moulding machines.
e-connect customer portal speaks Korean
One special highlight at Koplas is the Engel customer portal e-connect, which will be presented in Korean for the first time. At any time and anywhere, it provides an overview of the machine status, the processing status of service and support orders and the prices and availability of spare parts. In this way, the portal simplifies and accelerates communications between processors and Engel. All service products from the inject 4.0 program are integrated into e-connect, including e-connect.monitor for condition-based predictive maintenance and e-connect.24 for 24/7 online support. On site with the processors Engel has been present in Asia with its own subsidiaries for more than 30 years. Customer proximity ensures a deep understanding of local requirements, fast on-site service and short delivery times. In 2001 a production plant for small and medium clamping force injection moulding machines was opened in Pyungtaek City, South Korea. Engel large-scale machines have been built in Shanghai, China, since 2007. Both plants produce for the needs of customers in Asia.
The shortest route to the ENGEL world: the e-connect customer portal offers a very clear structure, integrates ENGEL service products, and is now also available in Korean.