During the five days of the fair, under actual production conditions and at a cycle time of under 2.5 seconds, the production cell will deliver 26-mm caps made of HDPE and including tamper-proof bands. The system scores with outstanding energy efficiency and highest degree of process consistency. At the core of the highly integrated solution is an ENGEL e-cap 2440/380 injection moulding machine with a clamping force of 3800 kN. A 96-cavity mould by Corvaglia from Eschlikon in Switzerland will be used. ENGEL has integrated additional peripherals into the system including a DMS dry-air system by Blue Air Systems (Kundl, Austria), a TWIN model cap inspection system by IMDvista (Brügg, Switzerland), and material handling units by Piovan (S. Maria di Sala VE, Italy). The hot-runner temperature control is made by S.i.S.e. (Oyonnax, France), and partners for the raw materials are Borealis, (Vienna, Austria) and Gabriel Chemicals (Gumpoldskirchen, Austria).
All-electric e-cap for the highest precision and process consistency
- In terms of geometry, beverage caps have reached their lightweighting minimum. This means that the demands on the precision and repeatability of injection moulding machines are higher than ever before - says Frank Schuster, Sales Director of ENGEL packaging, describing a trend that is often decisive in the design of injection moulding machines and production cells for cap production. In addition, the sensitivity of producers to energy efficiency continues to increase. In order to meet both challenges, ENGEL is focusing on all-electric high performance machines for cap production. With clamping forces of 1,100 to 4,200 kN, the ENGEL e-cap series was developed specifically for this market segment.
Among other things, the high-performance servo direct drives are responsible for the outstanding process stability and precision of the e-cap injection moulding machines. They ensure the required plasticising capacity and a maximum of usable parts even when using the new high-strength HDPE materials with a MFI significantly lower than 2 or even 1 g/10 min. In addition, the increased ejection and clamping forces help to achieve very short cycle times. In spite of its impressive performance, the e-cap requires very little energy and cooling water, even at constant high-speed
Everything from a single source for faster project planning
As a complete system, the production cell represents the state-of-the-art in highly efficient cap production. Both Blue Air Systems and IMDvista will be presenting their latest innovations at the ENGEL booth. The DMS series devices by Blue Air Systems allow for higher product quality and energy savings of up to 85 percent as compared to conventional mould dehumidifiers. What makes this series special is that it works without water. Without pre-cooling, it guarantees condensation-free production conditions regardless of the weather and the climate zone.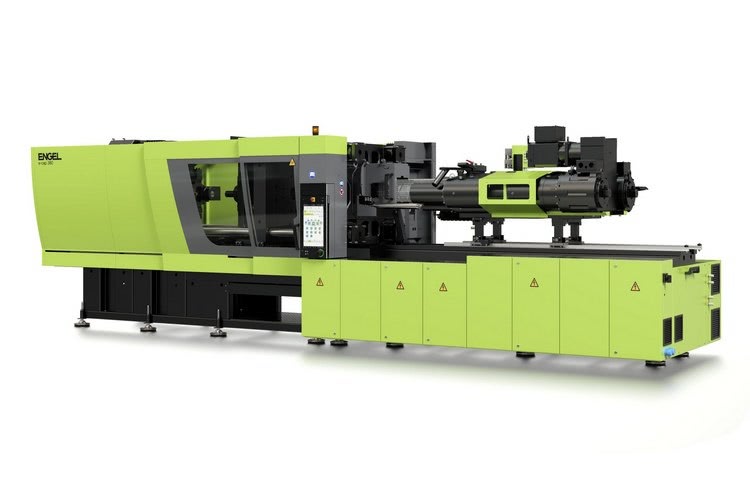 Maximum output with minimal energy consumption: During Drinktec 2017, a fully automated e-cap injection moulding machine, equipped with a 96-cavity mould, will be producing 26-mm caps including tamper-proof bands at a cycle time of under 2.5 seconds