Engel's response to continuing increases in order volumes for automation technology is to introduce synchronised line assembly and modernise the machine farm in its robot plant. The injection moulding machine manufacturer and automation expert has invested a total of 2.3 m euros in its facility in Dietach, Austria.
"The market for automation technology is growing worldwide", as Dr. Stefan Engleder, Head of Technology and Production at Engel, pointed out to trade journalists at the Fakuma fair in Friedrichshafen in October 2012. Engel supplies 50 percent of all large-scale machines and 35 percent of the small to medium-sized machines with automation included, and the figures are still rising. "Thanks to this new structure, we can now achieve short delivery times for the Engel viper linear robot and integrated system solutions, despite full order books", said Stefan Engleder. "At the same time, we have also increased production capacity."
Besides shorter delivery times, customers can look forward to other benefits. For example, the ability to respond in a far more flexible and faster way to short-term order changes and customer requests without interrupting the production process at some other point.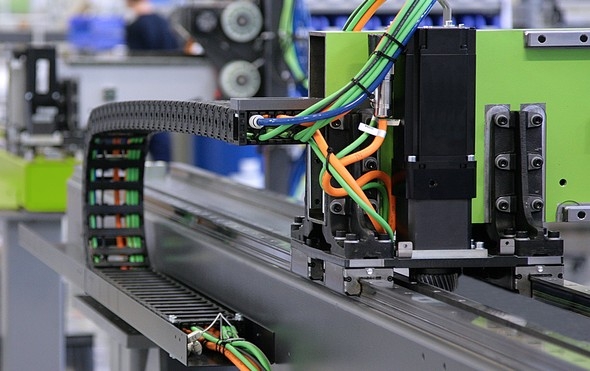 One special feature of the line process at Engel is that all work steps occur in sync with the assembly line. This also includes commissioning, thus avoiding unnecessary waiting time and providing a reliable basis for the customer's planning right from the outset. As IT-supported quality control of assemblies and components has also been integrated with the synchronised assembly process, this also improves process capability.
Two assembly lines for the Engel viper robots started operations in September. "We can thus cover 90 percent of all orders with line assembly", says Engleder. "And many options are also manufactured in sync."
In 2003, Engel became one of the first injection moulding machine manufacturers to introduce line assembly for the manufacturing of small and medium-sized machines at its headquarters in Schwertberg. The injection units have been produced in line assembly at the large-scale machine works in St. Valentin since April this year.
The latest investment in Dietach sees the third Austrian production facility follow suit. "Line assembly is Engel's preferred manufacturing concept", Stefan Engleder emphasises. "We continually question the efficiency of our production, and invest in optimisation driven by market requirements. This has helped us to improve our competitiveness worldwide".
In addition to simple pick-and-place applications, viper robots are increasingly being deployed in insert and multiple component processes. "Just a few years ago, you needed a custom automation solution for this", says Engleder: "But now, we can serve a wide range of applications with standard linear devices."
With seven sizes, which cover nominal load-bearing capacities between 6 kg and 120 kg, the Engel linear robots are easily adapted to the automation task in hand. Maximum stability, best in class dynamic and ease of use are the characteristics shared by the robots across all size groups. An innovative design that utilises laser-welded steel sections has kept the dead weight low, thus enabling the load-bearing capacity to be raised. Smart software packages reduce the structure-borne vibration of the robots – even with longer axis dimensions – and optimise the robots' movements and dynamic values.
To keep the robots, and the complete system, easy to control despite increasing application complexity, Engel integrates the control units – of both the viper linear robots and the easix multiple axis robots – completely in the Engel injection moulding machine's CC 200 control unit.
These excellent performance and efficiency features mean that Engel does not just sell the viper robot as part of a package with the injection moulding machine, but increasingly as a replacement for a legacy device and for use on third party injection moulding machines.