Supermarkets and industrial packers in Central and Eastern Europe could see significant reductions in costs and food waste with the launch of a new tray for meat products by Europe's leading packaging manufacturer, Linpack Packaging.
LINfres MAP trays offer an efficient production pack that combines a standard EPS tray with a barrier layer for extended product shelf life. When combined with LINtop PE HB lidding films, the unique tray can increase the shelf life of a protein product by up to 300%, compared with traditional non-MAP packaging methods.
LINfresh is suitable for fresh cuts of meat, poultry, fish and seafood – and is available in standard size ranges. The extended shelf life also allows products to be transported further – safe in the knowledge that they will maintain their quality and appearance.
Plain white and coloured trays are available, and these – together with the printing capability of the LINtop range of films – offer packers and supermarkets unique branding and promotional opportunities.
The LINfresh tray is typically half the weight of similar size rigid trays, and by minimising the use of materials Linpac is able to provide a MAP packaging option with a low carbon footprint.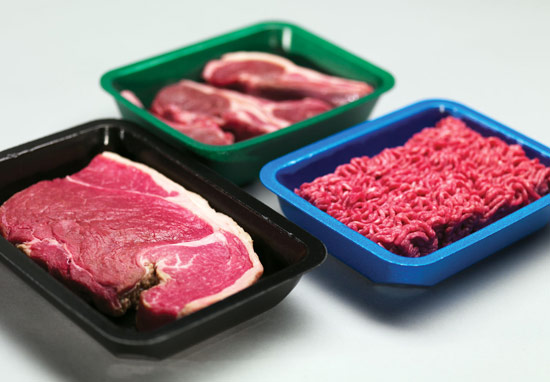 LINfresh's key benefits include excellent barrier performance, aPE sealing layer to minimise product leakage and maximise sealing compatibility with a barrier lidding film, reduced food waste, by keeping products fresher for longer, increased marketing opportunities – with printed film and coloured trays, more logistics options for industrial packers and retailers.
Piotr Baczkowski, General Manager of Linpac Packaging Central and Eastern Europe, said: "Consumers want their meat, fish or poultry products to be fresh, of the highest quality and perfectly presented. With the creation of LINfresh we are able to help industrial packers ensure their products reach the shelf in the best possible condition, no matter how far they have travelled.
"Through the combination of the integrated LINfresh tray and LINtop PE HB film, we are able to generate a longer shelf life – not only in-store, but also in transit to retailers.
"Together with the environmental benefits of reduced waste and a lower carbon footprint than competing packaging, we are confident that LINfresh answers a real need for packers to increase their bottom line and their environmental performance."
Linpac Packaging is a leading supplier of food packaging products to the Central and Eastern European markets, with an extensive manufacturing and distribution network across the region. The company is a multi-material packaging supplier to the protein, bakery, fresh produce and foodservice markets across Europe and beyond, and works with customers to offer consumer focused packaging solutions.