In an extremely competitive marketplace, confectioners and baked goods manufacturers must differentiate themselves in order to effectively engage consumers at point-of-purchase. Crown Aerosols and Specialty Packaging Europe, a business unit of Crown Holdings, Inc. will be showcasing its premium and sustainable packaging solutions at ProSweets, an international supplier tradeshow for the confectionery industry, February 1-4, 2015, Cologne, Germany (Hall 10.1, Stand: J010). Crown will also feature a wide array of packaging designs and finishes, which provide European confectionery brands with the creativity and freedom to develop visually engaging and reusable packaging for consumers.
Visitors at the booth will have the opportunity to learn more about Crown's in-house design capabilities as well as its technologies such as shaping, printing and finishing that provide customers with eye-catching, reusable decorative metal tins. These cutting-edge enhancements and decorative options underline the core brand values of Crown's customers and increase the visual and tactile appeal of their products on the shelf.
"One of the focal themes at ProSweets in 2015 is packaging. This is, for us, a significant opportunity to connect with existing and potential customers to exchange ideas about trends, quality, function and designs," says Veronique Curulla, Marketing Director, Crown Aerosols and Specialty Packaging Europe. "Our specialty packaging technologies provide premiumization that enables confectionery manufacturers to attract and further engage with consumers, building a strong connection to their brand. We provide our customers with numerous possibilities to safely package their products while lending them a premium look with extraordinary shapes, sophisticated finishes and convenient solutions."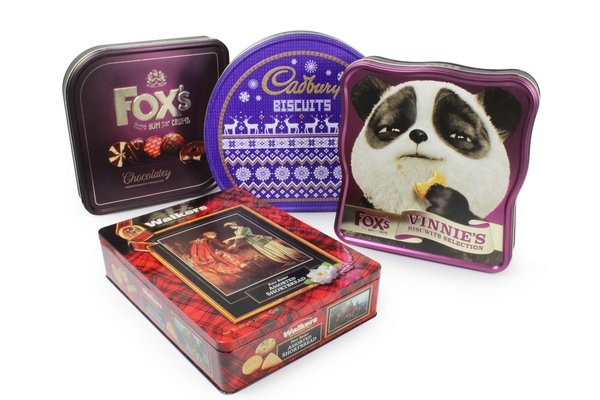 With dedicated facilities for confectionery brands in Mansfield and Carlisle in the United Kingdom, and in Châtillon-sur-Seine, France, Crown Aerosols and Specialty Packaging offers a high level of supply chain reliability and decreased time-to-market for European-based brand owners. All three of the state-of-the-art facilities feature full tin production capabilities. In addition, Crown Europe has a dedicated professional design team that works closely with customers from the initial packaging concept through to the final designs that consumers see on the shelves, streamlining the overall process and providing invaluable industry expertise.
The design team recently worked with Fox's Biscuits to develop the distinctive packaging for its new line of Vinnie's Biscwits Selection. The matte varnished tin features Vinnie set against a metallic purple background finish. Further enhanced by a triple layer embossed gold banner, the color scheme was also designed to align with Fox's Biscuits current seasonal range. Crown worked closely with Fox's Biscuits throughout the entire process, from initial tin shape concept to helping ensure that the container's dimensions were compatible with the company's filling lines. The stunning metal container also required new tooling techniques exclusively developed by Crown for Fox's Biscuits.
Made from metal, Crown packaging is 100% recyclable and can be infinitely recycled with no loss of physical properties, meaning it can be reused in the production of new packages with no degradation in quality - making it both a sustainable and cost effective resource. Confectionery manufacturers are focusing on more sustainable packaging options and metal's resistance to wear and tear can extend the lifespan of a tin, making it possible for consumers to reuse the packaging long after the original products are consumed.