Coperion has now strengthened its presence in the Middle East. Coperion Middle East, a joint venture between Coperion and the Saudi Arabian company Golden Wing, extends Coperion's world-wide service network by an additional service centre.
As a longstanding partner of Coperion in the Middle East, Golden Wing has already taken care of numerous high-capacity compounding lines for Coperion during their assembly and installation, including the local servicing. The joint venture will now enable Coperion to realize its projects in the Middle East even more efficiently and faster than hitherto. Coperion Middle East is based in Jubail, Saudi Arabia. The managing director of the joint venture is Ayman Gabr of Golden Wing.
The Middle East is one of the world's most important core regions of the petrochemical industry. Besides polyolefin producers, large plastics processing companies have also set up production facilities there. As the market leader in high-capacity extruders and polyolefin compounding lines for the plastics producing industry, Coperion already has a large number of such extruders and compounding lines in service in this core market and also counts a great many plastics processors in this region among its customers. Moreover, the Middle East has a strong and rapidly growing aluminium industry for which Coperion has already designed and manufactured a multitude of materials handling installations.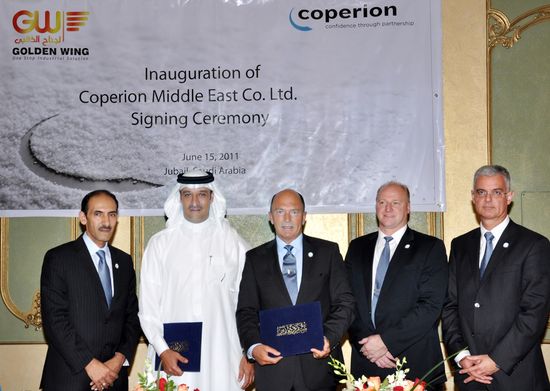 Coperion's new service centre constitutes a further extension of the company's existing customer service facilities in the Middle East. With immediate effect, Coperion Middle East can now offer such services as the supply of replacement parts, the servicing and upgrading of compounding lines, direct and immediate customer training either on its own premises or on the customer's premises; further improve the efficiency of customers' extruders and compounders through the local presence of experienced servicing personnel; plan and carry out even more efficiently (with the fastest possible turnaround) large-scale repairs and overhauls of high-capacity extruders and compounding lines.
Rounding off Coperion's service package for its Middle East customers are a servicing workshop and a comprehensive replacement parts warehouse, thus ensuring the fastest possible response to calls for repair and servicing.
A further benefit afforded by the new service centre lies in the now optimized attendance to all planned and existing installations in the region. This service embraces local project coordination and procurement just as much as the making available of processing know-how or the drafting of machine modification studies, thus boosting local wealth creation. In addition, Coperion Middle East shortens the delivery routes to rapidly growing target markets – for extruders for the plastics processing industry, for example, or for logistics systems for the plastics and aluminium producing industries.
Thomas Kehl, Member of the Executive Board of Coperion GmbH, evaluates the importance of the new service centre as follows: "For us the Middle East is an important market. A great many installations are already giving service there, especially compounding extruders and bulk materials handling systems of all sizes and capacities for plastics producers and plastics processors, as well as materials handling and logistics systems in the aluminium industry. The establishing of Coperion Middle East is therefore a logical step towards a more intensive service for our customers and a further milestone in the development of our service business. The joint venture holds a strategically key position in our plans to expand our business in extrusion systems for the plastics processing industry and in logistics systems for the plastics and aluminium producing industries. We are very pleased indeed to have in Golden Wing a renowned and dependable partner with whom we can systematically and purposefully pursue the development aims of our company."