Guayaki, based in Sebastopol, Calif., has introduced new packaging for its matés that is compostable and biodegradable.
The company worked with Innovia Films to develop a version of its NatureFlex packaging in a flexible, stand-up bag format. Made of two layers of cellophane and foil film, and printed with water-based inks, they will hold Guayaki Yerba Mate's new San Mateo and Traditional Loose teas.
Also true to Guyaki's market-driven restoration philosophy, San Mateo Loose Yerba Mate is what the company describes as a "carbon subtracting" product. This means that it grows in such heavy foliage that it actually puts back into the atmosphere more carbon than is required to produce it.
NatureFlex films are based on renewable resources (wood-pulp from managed plantations) and use novel heatseal-resins on each side. The films are static free and offer a super wide heatseal range for outstanding machine performance. The films offer good gas barrier properties and the coatings can be tailored to provide varying degrees of moisture barrier, depending on the needs of the wrapped product.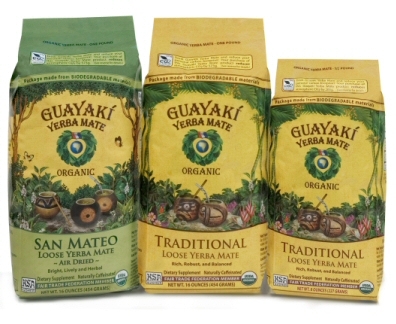 Used in this application NatureFlex NVS are transparent heat-sealable compostable cellulose films.
NVS film has been specifically formulated to offer improved stiffness under chill cabinet conditions and a controlled level of moisture permeability with a heat-sealable conversion-friendly coating on both sides. Target applications inlcude the flow packing of fresh produce, window bags and bakery.