Aquados is the first customer to take advantage of Superfos` new 100% recycled and recyclable UniPak EcoTM container. And the consumers love it.
Since launching their EU Eco-labelled laundry detergents, Aquados have tried to find the right eco-friendly packaging solution for the products. They have tested several potential solutions including alternative raw material, but only through a close coorporation with Superfos, the right quality solution emerged.
"We needed a special packaging solution to match our high quality requirements and bring green advantages at the same time. Our new tub does that. It is made from 100% post consumer waste plastic, it is 100% recyclable, and it possesses the same air-tight quality and long shelf life that we are used to," says Operations Director Alex Thompson from Aquados and adds:
"Luckily, our sales show us that this is the right choice of packaging. Though the new tub has only been on the market for a few months, we have already received a lot of positive reactions from our environmentally conscious customers and the sales figures are positive too. So I dare to conclude that it is a true success."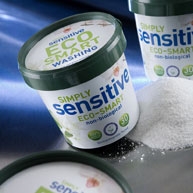 The eco-smart washing powder tub is the first container based on Superfos` award winning UniPak EcoTM design. According to Superfos` carbon footprint calculations, the new design reduces the carbon emissions by 20 grams for each container. As Aquados use 1,960,000 containers per year, the yearly savings add up to 39.2 tons of CO2 - equivalent to the emissions from an average car going around the world 5.5 times!
"Though we have achieved such great savings through our use of post consume material, we still miss out on a 74% carbon saving potential because of the lack of British recycling systems, which is unfortunately due to an absence of collection points for PP in the UK, despite it being one of the most readily recyclable plastics available," Alex Thompson points out.