Frequently, only halogen-free compounds that meet the high flame retardance requirements in accordance with UL 94 V0 are offered for thick-walled PP applications. For many areas of use this flame protection classification and, hence, the high quantity of flame retardant are not necessary. In order to close this gap, Gabriel-Chemie has developed a completely halogen-free flame retardant masterbatch: MAXITHEN® PP7A9850FR Compliance with important flame retardance standards in Europe such as UL 94 V2 or DIN 4102 B1 can be achieved with added quantities of about 8 %. Typical applications are pipes or seats made of polypropylene.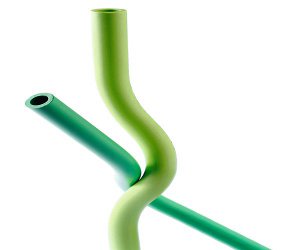 Gabriel-Chemie has developed a new halogen-free flame retardant masterbatch for thin-walled polyethylene applications (LDPE, LLDPE or HDPE): MAXITHEN® HP7AA1460FR. Compliance with flame retardance standards such as DIN 4102 B2/B1 and UL94 VTM can be achieved with this product. The added quantities lie within the range of 6 % to 12 %, depending on the wall thickness and the flame retardance requirements. Compared with the NOR-based flame retardants available on the market, MAXITHEN® HP7AA1460FR exhibits good effectiveness even with wall thicknesses of up to 500 ym.
The new MAXITHEN® BIOL 7DA1000TR masterbatch from Gabriel-Chemie has been specially developed for PLA applications, wherein a dosage of 2 to 3 % is recommended. MAXITHEN® BIOL 7DA1000TR is based on a biopolymer as a carrier material. No water is split off during the decomposition process; hence, the risk of hydrolysis of the PLA is minimised. The processing temperature should be at least 210 °C in order to achieve an optimum yield of blowing gas.