Branson Ultrasonics Corp.
, a subsidiary of Emerson, introduced its first global series of ultrasonic welding power supplies for automated assembly systems in the automotive, packaging, textiles and food industries.
With the new DCX Digital Power Supply Series, Branson will deliver to manufacturers and equipment integrators the same high-quality product and technical support with the common ultrasonic offering across the Americas, Europe and Asia. The new products are expected to ship in early 2012.
Based on users input and extensive industry collaboration, the new series features a smaller footprint, flexible mounting, more industrial control options, and improved diagnostic and data collection that customers want.
"The DCX Series responds to customers' needs for a global product that will give them the benefits to doing more, with increased power, less downtime, enhanced throughput, and the high global level of technical and product support from Branson," said Bill Heatherwick, Director Global Product Management, Emerson Industrial Automation, Branson Ultrasonics Corp. "The DCX represents Branson's latest innovation in ultrasonic power technology, and continues our tradition of providing global technologies and local solutions as industry leaders."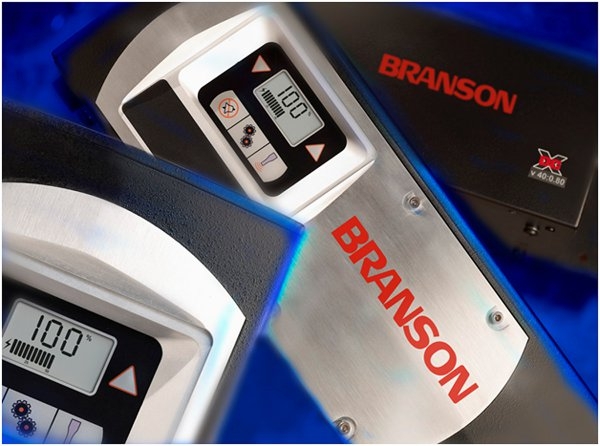 Combining scalable technology and the industry's first closed loop amplitude control; the new DCX power supplies provide enhanced performance, control, durability and reliability. These compact power supplies provide the best power density found in the ultrasonic industry today.
Offered in three compact sizes, and form factors including – horizontal, vertical with side mount or rear plane mount, the DCX series offers flexible integration and system design. Some models in the new series cut the size of the power supply unit by more than 50 percent.
"This new series was jointly developed by Branson's global product development team with input from our customers around the world. We are especially excited about the first in an expanded range of global offerings answering local needs in each region," said David Shen, Asia Marketing Director.
The DCX features Branson's exclusive and the industry's first BUC service port that provides remote diagnostics and configuration. Communication with the power supply is done by using commercially available HTML interface protocols that reside internally to the DCX, allowing the user to interface with the power supply using a standard Internet interface program.
Among the other advanced features on the new DCX Series are:
Greater Efficiency – Constant amplitude regulation results in less force required to weld
More Productivity – Programmable starting ramp times help to improve cycle rate and throughput Dependable – Six levels of power supply protection helps maintain weld quality and extend product life
Improved Thermal Management – Separate electronics and heat management compartments increase performance and durability
Total Amplitude Control for Closed Loop Amplitude Control – Provides complete and precise amplitude control throughout the weld cycle. Amplitude can also be increased or decreased instantaneously during the weld – an industry first.
The DCX products will be used to join plastics and process materials for such applications as interior and exterior trim in automobiles, portioning food and confectionary, point-of-purchase and packaging, and home and personal goods.
Branson offers a full range of plastic welding equipment
The flexibility and range of all Branson welding systems allows you to select components and create the assembly system that meets your needs, matching system features to your application requirements. Branson Ultrasonics Corporation provides detailed information and guidelines for optimal use of their welding equipment for customers and interested persons.