Arburg is taking another decisive step in customer support by extending its high standard of service worldwide. In future, international service technicians can benefit from the same high standard of training whether they attend a training course at the company headquarters in Lossburg or receive decentralised training in their own local language. The program has started with Jason Ding, most recently Head of Service at Arburg's subsidiary in Shanghai. He received basic training at headquarters from September to November 2014 and will be the first trainer at a subsidiary to train service technicians at local level. In future, this model will become a regular feature at Arburg, enabling native speakers to cover training course content with staff and customers in a professional way without language barriers.
"You are the first employee from a subsidiary to be trained as a trainer," said Arburg Managing Partner Renate Keinath when she presented Jason Ding with his new trainer certificate on 18 November 2014. "We are very pleased that you will be able to share the experience and expertise you have gained here in Lossburg with our service technicians in China in future."
Jason Ding is very well equipped for his new task. He has already been working for Arburg in China for 18 years, mainly in the service area. In organisational terms, he is now part of the Product Training department and thus has access to the relevant documents at headquarters, enabling him to provide expert training for the technical team in China and, later, in other Asian countries.
During his time in Lossburg, Jason Ding learned methods and structures that he will use to train service technicians at local level. These include, for example, the use of guidelines and training schedules, the issuing of confirmations and certificates for customers and the use of specific PC programs when training technicians. In addition, Jason Ding also had the opportunity to familiarise himself with the various departments at headquarters, including Technical Documentation.
If the necessary technical infrastructure is unavailable at the subsidiaries, Jason Ding also has the option of bringing his service technicians to Lossburg, where the relevant course content can be communicated to optimum effect. This also strengthens the personal bond between the Chinese workforce and their contacts at headquarters in Lossburg – bringing an important social dimension to international cooperation and promoting the employees' loyalty to "their" company.
Jason Ding believes it makes very good sense to train Chinese service technicians in their native language: "In China, it's still difficult to find suitable employees with good English skills. That's why training in the local language is better suited for communicating all the content in detail." Now that he has received basic training as a trainer, Jason Ding will pay regular visits to the company's German headquarters to see the latest interesting developments at first hand, so that he can incorporate these into his training courses in China.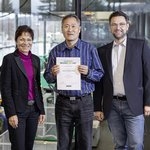 Because he has worked for Arburg for so many years, Jason Ding feels quite at home in the Black Forest. As well as his native language, he also speaks very good English, which facilitates communication. He rented a holiday home during his time in Lossburg and went on several excursions around the region at weekends. He quickly integrated into the trainer group and spent many social evenings with them. Moreover, a number of his Chinese colleagues visited Lossburg during his time there, so that he was able to act as their personal "tour guide" for the area.