Efficient production means achieving optimum product quality at minimum unit cost. For this purpose, all areas and influencing factors must be examined and taken into consideration over the entire value-added chain and an individually-customised injection moulding solution configured in each case. Here, examination of the value-added chain begins with product design and extends across mould, machine and peripheral technology, including configuration, through to process integration, process control and production planning. Arburg possesses sound expertise in all of these areas and is able to comprehensively support its customers in the realisation of efficient moulded part production.
Edrive: electric machines for a wide range of applications
An example of efficient electric machine technology is the Edrive series, which covers a clamping force range from 600 to 2,000 kN. Designed for the wide-ranging field of standard applications, the Allrounder E machines represent the electric alternative to basic hydraulic machines. They offer advantages in terms of cycle time thanks to their rapid and simultaneous execution of the most important machine movements and their potential with regard to energy efficiency. The high efficiency of the servo-electric drives and the toggle-type clamping unit ensure extremely energy-efficient operation of all electric Arburg machines. Servo motor energy recovery during braking also has a beneficial effect on the machines' overall energy consumption. Together, these factors combine to reduce energy consumption by up to 50 percent compared to standard hydraulic machines.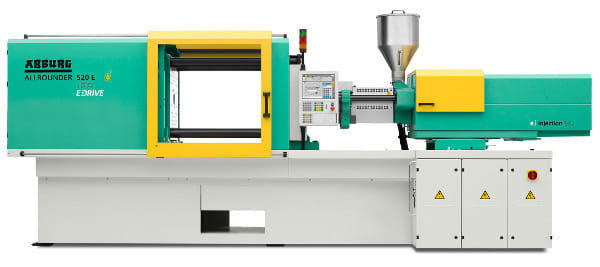 An electric Allrounder 520 E, with a clamping force of 1,500 kN and size 400 injection unit will represent the Edrive series at the MSV. The exhibit operates with an 8-cavity mould from Hasco and produces pump heads for dosing dispensers. The moulded part weight is 0.99 grams and the cycle time is eight seconds.
Increased efficiency through automation
Automation plays an important role with regard to production efficiency. In this regard, Arburg will present two innovative solutions in Brno in order to demonstrate the project expertise of the company.
For the fully-automatic overmoulding of cables, a production cell based on the vertical Allrounder 375 V has been designed. The entire parts handling is performed by a six-axis robotic system, which can be independently programmed by the machine operator thanks to the implemented Selogica user interface. In addition, the robotic system is directly linked to the Selogica machine control system. This online communication extends far beyond the Euromap interface and offers functions such as the synchronisation of movements and simplified machine start-up. The advantages of this solution are shorter set-up and cycle times.