The formnext will be held for the first time in Frankfurt from 24 to 27 November 2015. The international trade fair is expected to attract experts in additive manufacturing technology, mould construction, design and product development. On Stand E30 in Hall 3.1, Arburg will use two Freeformers to demonstrate the industrial additive manufacturing of fully functional plastic parts based on 3D CAD data and qualified standard granulates.
"From our point-of-view, the situation with regard to the additive manufacturing exhibition environment is unfortunate. Having weighed up all the options, we decided to attend the formnext trade fair. The conditions are given that this trade fair will become an important international forum for the industry," said Juliane Hehl, Managing Partner at Arburg. "Frankfurt is easy to reach from any part of the world. Here, our customers will meet us at the usual place and time, and we will present to them the potential of our innovative Freeformer."
Additive processing of standard granulate
"There is a definite demand for the production of fully functional parts from qualified standard granulates without requiring a mould, whether as one-off parts or in small-volume batches. Our Freeformer and the Arburg Plastic Freeforming (APF) technique offers plastic processing companies and service providers an additive manufacturing system. Interest in the product is huge as a consequence," emphasises Heinz Gaub, Managing Director Technology & Engineering at Arburg. "On the one hand, the Freeformer can be used to produce prototypes in the original material, so that expensive aluminium moulds are not needed and a new product can reach series maturity much faster. On the other hand, it is also possible to produce fully functional components and replacement parts at short notice in small batches or - when combined with injection moulding - to individualise mass-produced parts."
Multi-component machines as standard
The Freeformer operates on the basis of 3D CAD data and inexpensive qualified plastic granulates. It is equipped with two stationary discharge units as standard. This enables the Freeformer to process an additional component in order, for example, to produce a part in different colours, with special tactile qualities, or as a hard/soft combination. Alternatively, it can be used to build structures from a water-soluble support material, enabling complex part geometries to be realised. Once the supporting structures have been removed in the water bath, the parts can be used as design prototypes as well as for function and assembly tests, for example.
Another option is to produce the support structure in the same material as the part itself. A thinned out intermediate layer with targeted, predetermined breaking points enables the support structure to be simply broken off mechanically at a later stage. This is the preferred option for parts with free-standing structures and clearly defined edges.
APF offers a broad product range
With Arburg Plastic Freeforming (APF), inexpensive, conventional plastic granulates are the base material – one of the advantages compared to other additive manufacturing processes. The granulate is first melted in a plasticising cylinder as with injection moulding. Plastic droplets are then applied layer-by-layer onto a part carrier via the nozzle of a stationary discharge unit, using high-frequency piezo technology at a specified duty cycle (60 to 200 Hertz). Depending on the nozzle used, the diameter of the droplets of plastic generated under pressure is between 0.2 and 0.3 millimetres.
The moving part carrier is positioned so that each drop falls onto a precisely predetermined point. As they cool, the droplets automatically fuse together. The desired three-dimensional component is thus created layer by layer. The build chamber of the two-component Freeformer has room for parts with maximum dimensions of 154 x 134 x 230 millimetres.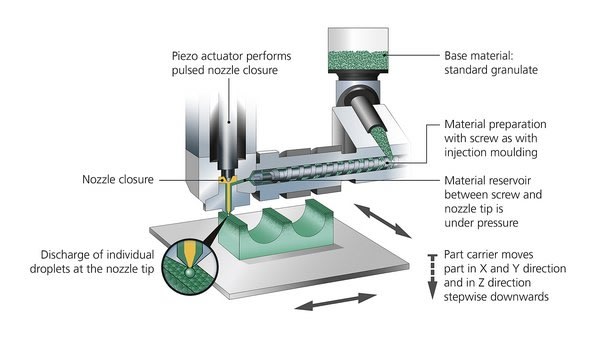 Automatic data processing
The 3D CAD data for the parts being manufactured (STL files) is prepared offline on a PC. Special software generates the necessary production data through slicing. Once the Freeformer controller has received this data, which determines the travel strokes of the axes, for example, production can begin. Operation is extremely simple and no special programming or processing knowledge is required.
Environmentally and user friendly
One great advantage of working with the Freeformer is that no emissions or other residual waste are produced, so that no additional infrastructure is necessary. No extraction units or cooling water are required. The system is therefore also perfectly suitable for use in an office or laboratory environment.
Efficient production of one-off parts or small-volume batches
With the Freeformer, Arburg has extended its industrial production offerings for plastics processing. While customers have long been able to rely on the company's injection moulding expertise and therefore on the efficient mass production of plastic parts, the same now applies to the cost-effective additive manufacturing of fully functional one-off parts and varied small-volume batches.
Individualisation of mass-produced articles
The Freeformer opens up another broad range of applications by enabling mass-produced products to be individualised in downstream processes. Arburg first demonstrated the interaction of injection moulding and additive manufacturing at the Fakuma 2014 using the example of office scissors.