In April, 65 customers attended an open house event at Arburg's Spanish subsidiary in Sabadell (Barcelona).
Here, there was ample opportunity to obtain an overview of Arburg innovations, the comprehensive product range and the current state of injection moulding technology.
"Together with our cooperation partners Hasco, Green Box and Jovi, we provided our guests with an interesting mix of practice and theory," said Subsidiary Manager Martín Cayre. "The opportunity to discuss individual issues with injection moulding experts and to find solutions for increasing efficiency was very well received."
The specialist presentations from Hasco and Green Box were primarily concerned with showing how energy efficiency can be increased through effective temperature control. Furthermore, the external experts explained how cycle times can be reduced by means of mould cooling near the cavities and presented the latest mould temperature control unit.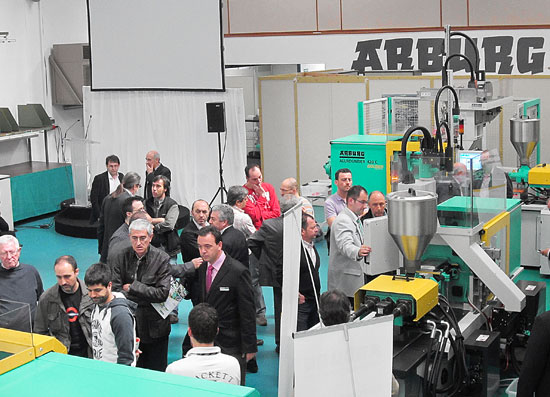 The practical presentations produced a positive response among the guests. As representative of the high-performance, hybrid Hidrive machine series, an Allrounder 470 H with a 48-cavity mould produced insulin pens for the medical technology sector. On this exhibit, Arburg also demonstrated the Selogica "Set-up Assistant" module. With this new control feature, installation technicians can set up their injection moulding machines quickly and easily via menu guidance. Additional main features related to this exhibit were the new Arburg Mobile Selogica control panel and the Multilift Select robotic system. The visitors were impressed by the opportunity to program this themselves.
With the new electric Integralpicker V, which is designed for quick and reliable sprue removal, set-up and cycle times can be significantly reduced. How this works, was demonstrated on a hydraulic Allrounder 320 C Golden Edition. Cutters for plasticine were produced. In addition, a hydraulic Allrounder 420 C Golden Edition producing cogwheel bushes was presented as an cost-effective automation solution for the manufacture of technical components. Part removal was via a Multilift Select robotic system.
Overall, the subsidiary manager was highly satisfied with the open house event: "Our product innovations and automation solutions were very well received", said Martín Cayre. "Especially the new Integralpicker V with three servo-electric axes generated great interest."