On 27 and 28 June, the Arburg team presented innovative injection moulding solutions at the subsidiary in Budapest, Hungary on the occasion of Juniális 2013. This event is a permanent fixture in the Hungarian plastics industry calendar and this year was dedicated to the overarching topic of production efficiency. The event met with an extremely positive response from around 80 guests from 40 companies.
- At Juniális, we demonstrated that we are not only a manufacturer of innovative injection moulding technology, but also possess expertise throughout the entire value-added chain of the injection moulding process. This means that we can provide all-round support to our customers who wish to enhance their production efficiency, - said Gabriella Hollik, Managing Director of Arburg Hungary. - First and foremost, at this event we presented our expertise in automation and focused in detail on the topic of energy efficiency.
Gabriella Hollik and her team were especially pleased that the event was attended not just by longstanding Arburg customers, but also by many prospective clients who are considering purchasing an Allrounder injection moulding machine for the first time. In a successful blend of theory and practice, the guests gained an overview of different approaches to increase production efficiency in a specialist presentation and through practical examples, and were able to take some valuable ideas and inspiration away with them for their own production facilities.
Production efficiency live
Using two exhibits, each of which combined an Allrounder injection moulding machine with a vertical Multilift robotic system, Arburg illustrated how unit costs can be efficiently reduced, for example through the use of automation and energy-saving machines.
An Allrounder 470 E from the electric entry-level Edrive series produced small parts boxes. Part removal and set-down was performed by a Multilift Select, which was fully integrated in the Selogica control system. In addition, the machine was equipped with the Selogica "Set-up Assistant" module. This human-machine interface assists the installation technician at every step through guided menus, and simplifies the set-up process – from mould changes and automatic parameter calculation, through to teaching the finished production sequence.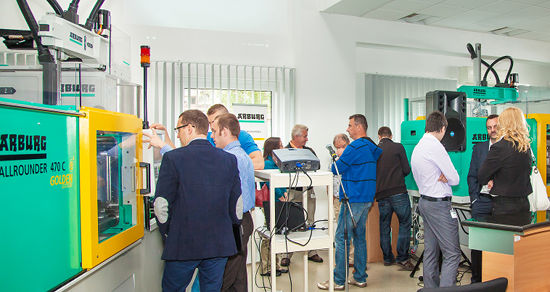 A Multilift Select also ensured high-precision parts handling in the production of a stacking box on an Allrounder 470 C from the hydraulic Golden Edition series.
In addition, the hydraulic machine was equipped with the Arburg productivity package, which reduces the energy requirement by up to 20%. This package includes the Arburg AES energy-saving system with variable-speed pump drive and water-cooled motor. This makes the two-circuit pump technology for simultaneous movements even more cost effective. Furthermore, dry running times can be shortened, the cooling requirement optimised and noise levels reduced.
Comparative energy consumption measurement
Arburg offers a whole range of technical equipment for permanently reducing the energy requirement of injection moulding machines and therefore also unit costs. The measured values of different Allrounder series and equipment options were compared in an energy consumption measurement, using the same process data and material throughput. The result clearly demonstrated opportunities for potential savings. For example, use of the productivity package reduced the energy requirement by 20%. In a presentation, the results were compared and analysed in a practical context.