Plastics products for medical device technology and the pharmaceutical industry are the speciality of Spang & Brands, based in Friedrichsdorf, Germany.
The breadth of know-how covers mould manufacture right through to products ready for use. During 2011 and 2012, several innovative developments have been completed successfully and introduced to the market, in particular in two-component injection moulding technology using special plastic blends and combinations. The highlight among the Spang & Brands exhibits is a tight seal two-component (2K) bag sealing system with proof of authenticity, the tamper-proof cap (TPC) used with bag systems for example. This and other exhibits can be seen at the company's stand – M33 in Hall 8a at Compamed.
Spang & Brands GmbH in Friedrichsdorf, Germany, constantly breaks new ground in the development of components for medical device technology and displays this during Compamed in Dusseldorf. Among the exhibits is a two-component connector system, the TPC cap with proof of authenticity. This is a patented in-house development of Spang & Brands that has reached market maturity within 12 months.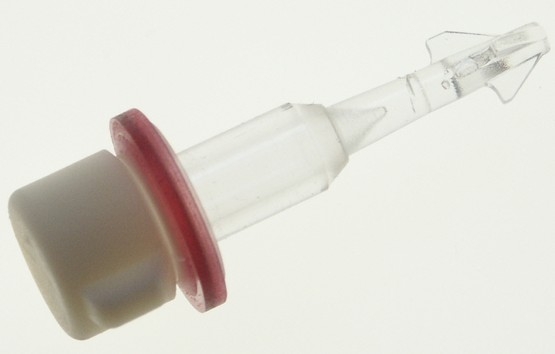 When, in the past, there was no guarantee for an already connected conventional bag closure system – thus unsealed or opened – has lost its sterility through that use and is no longer safe, due to the danger of contamination, this problem now no longer exists due to the innovative functionality of the 2K closure system by Spang & Brands. The red ring at the port collar, via ultrasonic welding, now offers nursing staff clear proof of authenticity, i.e. that the sealing system between bag and tube system has not been tampered with. "The Tamper Proof Cap (TPC) meets two vital criteria. Firstly, it gives the user total confidence and proves that no one has disconnected the port previously. Secondly, the cost of having to apply a banderol, gasket insert or additional secondary packaging of the entire bag system is therefore eliminated. This plays an important part in reducing the overall production costs", explains Friedrich Echterdiek, managing director at Spang & Brands GmbH.
The TPC safeguard of the systems is the connection between the red polycarbonate ring and the cap made of extra-soft thermoplastic elastomers (TPE). The component is produced in two-component injection moulding in a single process. The TPC cap is hermetically connected to the collar of the port (polycarbonate) using ultrasonic welding technology and prepared for shipment in the Spang & Brands cleanroom assembly facility (Class 8). Ultimately, this connection guarantees a 100 percent long-term seal. The TPC bag closure system is designed to withstand gamma or steam sterilisation.
The additional task for Spang & Brands was the customer guarantee that the bag closure system was indeed totally tightly sealed. This requires that, in a two-component injection moulding process, a soft material is applied, in this case TPE, and has to reach a seal with the polycarbonate at the port end. Primarily, there had to be a tamper-evident closure in a clearly contrasting colour that has to be turned by the user in order to be able to connect the tubing system. Inevitably, this identifies its first-use, single-use function immediately.
"The sterile PC/TPE connection of the closure cap can only be achieved in a 2K injection moulding process and the hermetic connection between the TPC cap and the port collar, both in PC, are only possible applying ultrasonic or laser bonding technology. In addition, all materials meet or exceed compliance with the latest medical device manufacturing regulations, including FDA approval", Echterdiek points out. The process engineers had finally come up with a product that requires no auxiliary materials whatsoever or additional components and adhesives requiring supplementary approval.
Three components have been injection moulded as two and ultimately fused by US sonotrode. With various products, Spang & Brands has utilised know-how in the past, for instance the 2-port bottle cap, to establish how soft TPE performs under various conditions in conjunction with other materials: "We understand the complexity of TPE. We connect its potential with that of other plastics, frequently PC or PE, and achieve product combinations unattainable to date. What is more, we are achieving this more easily, faster, more safely and more cost-effectively. Therefore, it is no dream of the future that, for instance, the next generation of such TPC closure systems is no longer produced on injection moulding machines in three or two parts, but instead using one single innovative tool, ready to go and absolutely sterile, i.e. innovative products emerging from one special production cell", emphasises the Spang & Brands managing director.