Opakprint 2010

Lublin Packaging and Printing Fair
Phone:

+48 61 8692600

Fax:

+48 61 8692953

www:

e-mail:

elzbieta.cytrynska@mtp.pl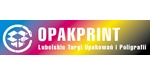 The OPAKPRINT Lublin Packaging and Printing Fair is a new event organized by the Poznań International Fair. OPAKPRINT is a trade meeting directed at representatives from enterprises, manufacturers and trade companies in the packaging and printing sectors. The fair idea originated from market needs and desires to make cooperation possible with partners in southeast Poland. Observing the growing interest in the TAROPAK fair, we decided to relocate our offer to Lublin. The new formula also enables reaching exhibitors representing companies from the Ukraine and Belarus. The strengths of the fair include both its highly experience co-organizer - Lublin International Fair and its new, conveniently located exhibitor pavilion, opened a few years ago and situated in the city centre.

The first edition of the fair took place 11-12 March 2009. Several exhibitors from Germany, Sweden and Poland gathered. They presented the most modern products and services, and technological solutions for packaging. Dominating the goods offered were packaging and packaging materials, as well as packaging machines and equipment.

An important element of the fair are its social events, organized in cooperation with the Polish Chamber of Packaging and the Polish Packaging Research and Development Centre. During the inaugural edition participants had the opportunity to take part in seminars concerning the problem of packaging certification in Poland and the health safety of food packaging. Also touched upon was the topic of the challenges the financial crisis is posing on companies in the packaging industry.

The next edition of the Lublin packaging fair will take place 19-20 May 2010. The theme of next year's fair will be extended to include the printing trade, both in the scope of offers presented at the fair and the program of social events. The combining of these complementary market sectors will surely cause an increased interest in the fair among professional attendees.

We believe that the OPAKPRINT Lublin Packaging and Printing Fair will gain your interest and attention. We warm heartedly invite you to attend!