Date:
Location:
Melbourne,

Australia

,


Melbourne Exhibition Centre 2 Clarendon Street, Southbank, Victoria, Australia
Organizer

Exhibition Management Pty Ltd 179 Park Street (PO Box 1192) South Melbourne Victoria 3205 Australia

Phone:

+613 96994699

Fax:

+613 9690 9333

e-mail:

info@exhibitionmanagement.com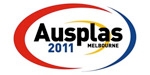 With reservations for 60% plus of the space at Ausplas 2011 now in hand, requirements for the remaining prime areas are expected to peak as Australian agencies for equipment and materials and their principals finalise their arrangements prior to and during the forthcoming International show, K in Düesseldorf in October.

The bookings for Ausplas 2011, to be held 24-27 May, are an interesting combination of previous exhibitors with their traditional agency arrangements presenting alongside 'first time' companies bringing new equipment and technology from Australia and overseas.

2011 also sees the return of several major companies which stood out from Ausplas '08 due to its collision with the GFC in that year. 30% of the current bookings are from companies which did not exhibit in 2008.

The profile of exhibitors has continued the trend towards operating machinery and ancillary equipment, which now represent some 75% of the current reservations. The number of operating machinery exhibits will be double that of 2008, with very strong representation from European and Asian manufacturers.

Ausplas 2011 will stand alongside two other major trade shows, National Manufacturing Week and Austech. The three trade shows will occupy the entire Melbourne Exhibition Centre to present Australia's largest and most comprehensive manufacturing industry event expected to deliver around 12,000 trade buyers.

Ausplas exhibitors are universally upbeat about the benefits these new relationships will present as they will facilitate greater interaction with the general manufacturing sector.