2,881 visitors from 25 countries were counted during the four days of plast expo 2011, held from 6-9 April at the Casablanca International Fairgrounds - OFEC, an increase of 40% compared to 2009. The 4th International Plastics, Rubber, Composites, Packaging and Conditioning Trade Fair for Morocco and North Africa was officially inaugurated by Mamoun Marrakchi, the president of the Moroccan Plastics Federation FMP. The general directors of the chambers of commerce and industry of Austria, Germany, France and Italy in Morocco, the president of the Valencia Association of Plastics Producers-AVEP of Spain, as well as representatives of exhibiting companies were present at the opening.
"We are very happy that plast expo 2011 takes place in a context of strong growth and that, despite all the events in the region, even more exhibitors are participating this time. The turnover of the plastics industry in Morocco has grown to more than 14 billion dirham (1.3 billion Euros) in 2010, after ten years of double-digit growth", outlined Mamoun Marrakchi. "The technological solutions offered by the exhibitors during plast expo 2011 represent state-of-the-art technologies on an international level and correspond perfectly to the needs of our companies in the plastics industry."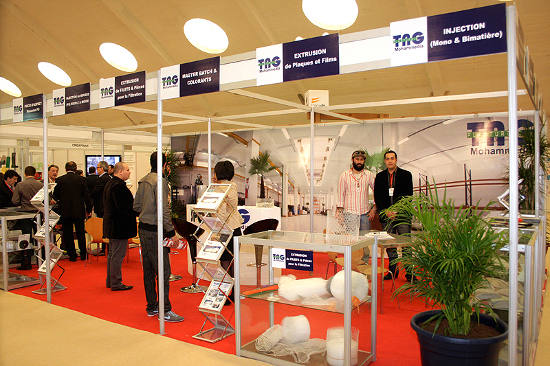 Nabil Saouaf, FMP's general-director summed up: "Thanks to a vast promotion campaign, the organizers, the Moroccan Plastics Federation FMP in cooperation with Forum 7 and fairtrade, have succeeded to sharply increase the number of trade visitors at plast expo 2011 (after 2,058 trade visitors at plast expo 2009). With 2,881 trade visitors (+40%) discussing business with 136 exhibitors from 18 countries (+34% compared to 2009), plast expo 2011 confirmed its status as Morocco's and the Maghreb's major and highly efficient B2B event with a clear focus on quality attendees."
International market leaders from Austria, Brazil, China, Egypt, France, Germany, India, Italy, Morocco, Portugal, South Korea, Spain, Switzerland, Pakistan, Taiwan, Turkey and the United Arab Emirates participated at the trade show.
plast expo 2011 was organized against the backdrop of massive investments into the North-African plastics and packaging industry and a huge increase in demand for plastics and chemical products.
plast expo is a bi-annual event being held in Casablanca, Morocco, alternating with plast alger taking place in May 2012 in Algiers, Algeria.