TIM Light, the little brother of the patented cube engineering concept TIM (Total Integrated Manufacturing)
Exhibiting at K 2013 in Hall 02, booth A02, Zahoransky will show a TIM Stack Mold unit consisting of two mold halves with central rotary cube, allowing two different parts to be made on a single mold. The special features of this new, patented system are the two mounting platens outside the mold, allowing complex mounting processes to be worked down outside the two mold halves in the easiest possible way. The big advantage: the machine cycle is not made any longer. Unlike in common cube engineering, the complexity of the mold is greatly reduced owing to the outside mounting work.
The TIM Light mold, the little brother of the TIM mold, uses a modular two-platen mold in place of the cube mold. This means that no tie bar extension, a must in cube molds, is needed in the injection molding machine. The great benefit: instead of special machines, only standard injection molding machines are needed for TM Light. The molding assembly in the TIM Light is also made independently outside the mold on external movable platens. The mold cycle is only moderately longer by the mold platens retracting into the mold.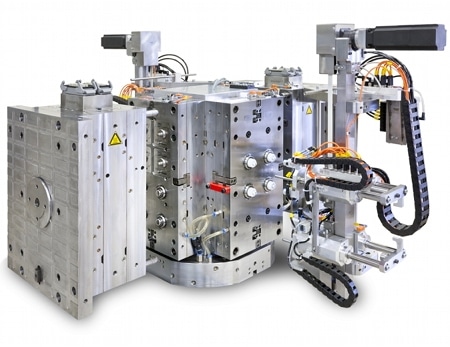 Z. Zyklon, the all-round system for production of disposable syringes
Zahoransky Systems Technology shows a needle isolating system in operation. Using the Z. Zyklon unit for making disposable syringes, a comprehensive modular automation solution is on display, under the motto "all from a single source".
The complete system serves the isolation and the non-gluing injection molding of partially ground syringes with a Luer application. Both the NFS (needle feeding system) and the injection molding unit are integrated in the Z. Zyklon system.
The injection moulding machine used is an Arburg Allrounder 275 V with rotary table. The associated 8-fold injection mold in full hot runner design has also been designed and built by Zahoransky's own mold making. The output of one system is 55 million disposable syringes per year. Several systems can be interconnected for scaling up.
As system suppler, Zahoransky offers ultimate integrity of upstream and downstream automation, from granules up to finished packaging. All from a single source also means: all peripheral modules are fully controlled via the central, user-friendly SPC process control.