Last year, the well-known Romanian pipe producer Tehno World installed a complete extrusion line from battenfeld-cincinnati that was funded by an EU project. With this line, Tehno World enlarged its production capacity to include two-layer HDPE pipes with diameters up to 1.2 m at its facility outside the city Falticeni, Jud. Suceava. Tehno World is the only producer in Romania able to produce pipes of this diameter and has entered the European market for large diameter pipes. The majority of the extrusion lines for smooth and corrugated pipe at Tehno World's facility are entirely from or include major components from battenfeld-cincinnati.
"It has been a great opportunity for Tehno World to collaborate again with battenfeld-cincinnati, because we have reached for new horizons in our field of activity. battenfeld-cincinnati is a reliable and valuable business partner for us with whom we have worked in the past to develop our production capacity. battenfeld-cincinnati has demonstrated the high quality of its service and products while helping us to develop further and raise our standards of technology and flexibility," says Ing. Iustinian Pavel, Director of Tehno World.
The 1.2 m line produces pipe in the pressure classes SDR 11, SDR 17 and SDR 26 and was introduced to Tehno World's customers at an Open House event in October 2015.
The line is equipped with a solEX 90-40 as its main extruder and a uniEX 45-30 as co-extruder. Both operate with a high level of efficiency, thanks to their AC drives, optimized screw geometries and air-cooled, bi-metallic barrels.
For the addition of color stripes, battenfeld-cincinnati delivered a small, space-saving coEX 30-25 co-extruder, installed on a die trolley with a swivel arm for easy movement.
The new large-diameter line also includes some FDC (fast dimension change) components: The pipe head is equipped with an adjustable die aperture, which consists of a conically shaped mandrel and an outer sleeve moving in longitudinal direction. It covers pipe diameters from 900 to 1,200 mm and - with an extension – also diameters from 500 to 800 mm (SDR 11 – SDR 26). The FDC components are completely integrated in the BMCtouch extruder control.
The helix 1200 VSI-TZ+ pipe head reduces sagging and pipe ovality for thick-walled pipes, even at high line speeds, thanks to its two-step distribution concept. The active intensive melt cooling and inner pipe cooling operate mainly with ambient air, thus minimizing operating costs and maintenance requirements.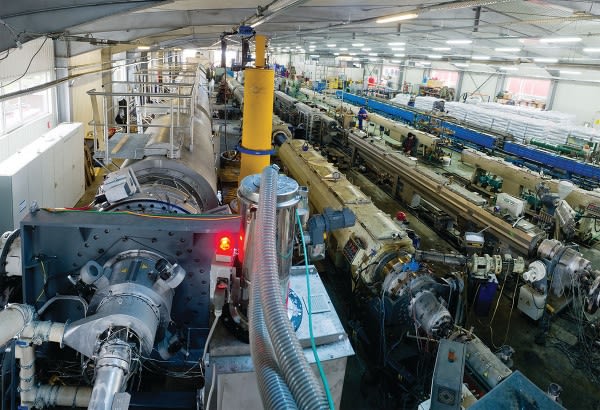 The internal pipe cooling also reduces the cooling length, which is of great importance for Tehno World due to limited hall space. With the new line from battenfeld-cincinnati, they can run 1.2 m pipes (SDR 17) with throughputs above 1,500 kg/h and a cooling length of less than 40 meters.
The cooling section includes two vacStream 1200-6 vacuum tanks and four coolStream 1200-6 cooling tanks and is complemented by the rest of the line components: haul-off (pullStream R 1200-10 VEZ), start-up aid (startStream AFH 60), cutting unit (cutStream PTA 1200) and tip table (rollStream RG 1200).
The line is controlled by the proven BMCtouch control with a 19" TFT touch screen, so that saw and haul-off can be operated via the extruder terminal. The control also includes the option of remote servicing.