For specific applications, Sumitomo Heavy Industries offers special-purpose machines for optical storage media or PET preforms, machines with a vertical clamping unit for insert moulding or for injection blow-moulding or multi-component technology respectively.
The development and production of injection moulding machines is merely one out of a whole number of activities of Sumitomo Heavy Industries, ranging from power-transmission drives or cryopumps via machine tools, plastic machines or construction machinery and equipment to ships or vessels and industrial plant.
The Demag brand of injection moulding machines looks back on a history of just under 60 years. During this time, the Anker and Stübbe brands as well as VEB Plastmaschinenwerk Wiehe were integrated into Demag. Together with the production facility established in China, this has resulted in the formation of an international production network.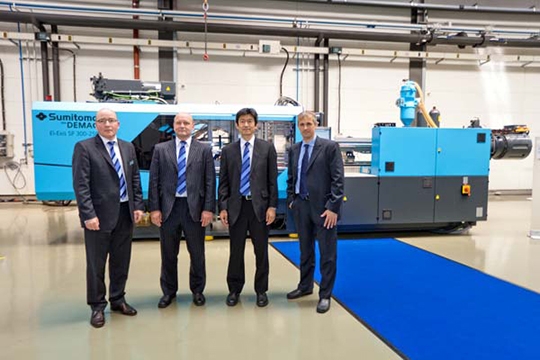 The Demag parent plant in Schwaig/Germany focuses on hydraulic and hybrid machines with clamping forces from 1,300 kN to 20,000 kN. Taking into account the increasing significance of the electric drive technology for injection moulding machines, Sumitomo (SHI) Demag has turned the former Demag works in Wiehe/Germany into a global centre of excellence for electric machines in the course of 2009. Owing to the production capacities thus created, the Wiehe facility supplies and delivers all electric injection moulding machines for the European and American markets today.
In Ningbo/China, Sumitomo (SHI) Demag continues to operate the former Demag works that had been active since 1999. Since 2007, this subsidiary company had its own newly established works that moved to a larger premises with a production floor space of 11,000 sq. m. when its capacity was fully utilized.
Currently, the range of injection moulding machines for the Chinese market is being converted from the Dragon with clamping forces ranging from 500 kN to 3,500 kN to the Systec C model with clamping forces ranging from 500 kN to 8,000 kN.
The Indian subcontinent continues to be the source of supply for the global production network of Sumitomo Heavy Industries and Sumitomo (SHI) Demag, and the company continues to intensively support its customers with new structures. In Chennai, Sumitomo (SHI) Demag had backed out from the joint venture of the former Demag Plastics Group in 2009.
In addition to injection moulding machines, Sumitomo (SHI) Demag offers customized or standardized systems for the automation of moulded part handling, process technological solutions for special applications, customized services or servicing concepts as well as offers to finance customer investments in injection moulding machines.
Since the merger of the two predecessor companies, Sumitomo (SHI) Demag has pooled its marketing organizations in Asia, Europe, North and South America together with Sumitomo Heavy Industries. With a complete sales and after-sales service network of subsidiary companies or agencies, Sumitomo (SHI) Demag is well represented in all the major industrial markets.