Being one of the world's leading manufacturer, Sumitomo (SHI) Demag Plastics Machinery GmbH of Schwaig/Germany have presented a complete cross-section of its range of injection moulding machines at the world's leading trade show K 2010.
Under the slogan of "Ahead of future", the Japanese/German company had six machines on display at its own exhibition stand plus three more machines integrated at partner stands to show the dynamics and efficiency of its machines. Further enhanced machine technology, drive technology and process technology as well as completely newly designed series such as the El-Exis SP high-speed machine offer many benefits to customers and users.
With the merger of the activities of Sumitomo Heavy Industries in the line of injection moulding machines and the Demag Plastics Group in the spring of 2008, one of the largest manufacturers of injection moulding machines for the processing of plastics and polymers has been established.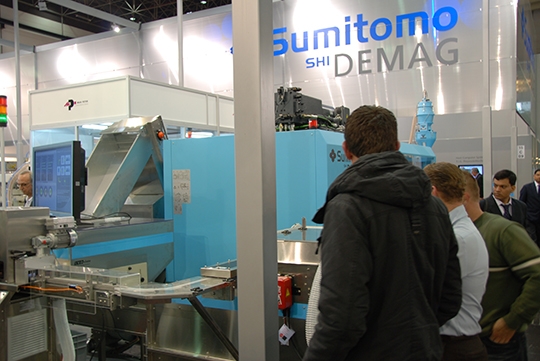 The global development and production network of Sumitomo Heavy Industries and Sumitomo (SHI) Demag is composed of four production facilities in Japan, Germany and China with a workforce of more than 3,000. The product portfolio includes all-electric, hydraulic and hybrid injection moulding machines with clamping forces ranging from 180 kN to 20,000 kN.
Just under 100,000 machines sold on the global market prove that Sumitomo Heavy Industries and Sumitomo (SHI) Demag rank among the major players in the field of plastic moulding machines. This Japanese/German company is equally represented in all the major markets of the world. Today, more than 25,000 machines are installed in Japan, and more than 20,000 each in Europe, America and China, plus several thousands in the rest of the world.
It is the main objective of Sumitomo Heavy Industries and Sumitomo (SHI) Demag, being a leading manufacturer of injection moulding machines in terms of technology, to further build up on its strength in the field of electric machine concepts and to significantly increase its market share for electric injection moulding machines on a global basis.
Today, more than eighty percent (80%) of the machines made in Japan come with an electric drive concept. Sumitomo Heavy Industries, the parent company of Sumitomo (SHI) Demag, ranks among the leading Japanese manufacturers of electric drives, and is a supplier of special high-torque motors for use in injection moulding machines, among others. On the back of this competitive edge, Sumitomo (SHI) Demag anticipates a fast increase in market shares for electric machines, specifically in Europe and America.
With more than 4,200 machines sold in a year, Sumitomo Heavy Industries is believed to be the largest manufacturer of injection moulding machines in Japan. The Sumitomo parent plant in Chiba produces machines with small to medium clamping forces in the range from 180 kN to 5,500 kN. Approximately ninety-five percent (95%) of all machines supplied and delivered by Sumitomo Heavy Industries come with an all-electric drive concept.