In 2011 the associations of specialist beverage wholesalers, beverage retailers and private breweries as well as the foundation "Stiftung Initiative Mehrweg" and DUH (German Environmental Relief ) demanded mandatory, unambiguous labelling so as to avoid confusion between single-use and returnable bottles. After all, a study conducted by the German Environmental Authority showed that many consumers believe PET single-use bottles are refilled like returnable bottles. "Consumers are confused by the non-transparent deposit scheme but policymakers lack the will to do anything about this to save the returnable system," criticises NABU Federal CEO Leif Miller.
By industry accounts the decline of reusable schemes is also accounted for by the ranges offered by discount stores. Since 2004 mineral water – the largest beverage segment followed by sodas and beer – has been offered at extremely low prices at supermarkets. Reusable packaging is increasingly being replaced by its single-use counterpart, for carbonated water, in particular.
Which is why the reusable sector of the industry characterised by many small and medium-sized businesses sees its 170,000 jobs under threat. Due to their regional roots, says Roland Demleitner, CEO of the Germany Private Breweries' Association, these reusable systems worked liked a life-assurance for more than 1,300 regional breweries, juice pressers and mineral water springs. Since reusable bottles are not only recovered but also checked and cleaned they are by far more labour-intensive than single-use bottles.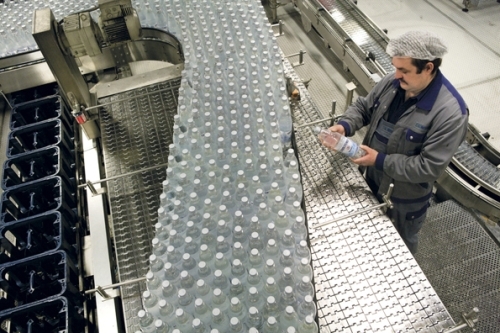 On the other hand, the increases in single-use PET sales resulted in large-scale, consumption and cost-efficient lines, in particular, were built here. Apart from the use of new machines with high nominal outputs, innovations for machinery arrays also made filling more energy effective – for instance, dovetailed installation of the actual filling lines with the blow-moulding machines rendering bottle transport superfluous. This is evidenced by a study carried out by the IK Industrievereinigung Kunststoffverpackungen (Plastics Packaging Industry Association) and the Forum PET.
On-going optimisations along the process chain for single-use PET bottles also includes shorter distribution distances. Add to this the fact that bottle weight has come down considerably. Between 2008 and 2010 alone the weight of the 1.5l bottle was reduced by 14%. Moreover, recycled PET is now used which makes for raw material savings. Thanks to process optimisation along the value chain considerable energy savings could be achieved in pre-form production, blow-moulding as well as filling processes between 2008 and 2010.
There are also innovations in the field of glass bottles. 2011 saw the "Reusable Innovation Award" go to a filling line, to name but one project, whose bottle cleaning machine only required a fourth of the water required by the old system. On top of this, the new drive systems of bottle and crate conveyor belts cut energy consumption by 20%.
Award-winning projects also included the launch of a new 1l glass reusable bottle allowing significantly more water to be packaged using less material. Also receiving an award was a reusable light glass bottle (330g) for mineral water. It reduces the material used for bottle production by more than 47% while minimising energy consumption for production and transport at the same time.
Source: interpack.com