RPC Superfos has refined the co-injection method for manufacturing plastic packaging.
Now, the company can manufacture a container from different types of plastic: plant based, virgin material and post consumer recycled material. The result is a reduced carbon footprint of the packaging.
RPC Superfos launches the new environmentally sustainable packaging solutions that help to reduce carbon footprint. The refined co-injection method is a tool to reach this objective.
By using company's pioneering co-injection process, RPC Superfos is able to recycle a lot more post consumer material than before. One of the goals of it's carbon strategy is to introduce bio-plastic; this material may also be used in the co-injection methods.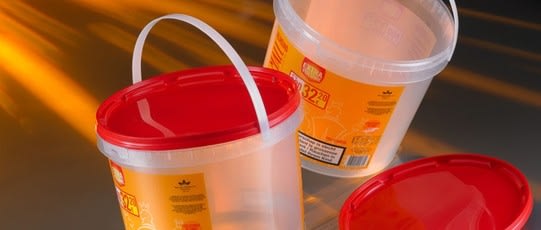 As long as the different types of plastic are compatible with polypropylene (PP), the company can use them for manufacturing packaging with the co-injection methods. The plastic material could be bio-plastic, plant-based, virgin, post consumer recycled (PCR) or even post industrial recycled (PIR).
In the production of conventional packaging solutions, RPC Superfos uses nothing but polypropylene or polyethylene plastics. Both ensure a high level of hygiene and none of them give off unwanted substances to the packaged contents. After usage, PP and PE can be incinerated with energy recovery, so it becomes disposed of in an environmentally friendly way. Or it may very well be used as filling in a packaging made with the co-injection method.
"Thanks to the co-injection method we can inject recycled materials between layers of virgin material. Only the raw material virgin PP is visible or in contact with the packaged content. A picture of a sandwich illustrates the concept and the share of post consumer material, the filling, is around 30 per cent. Applying the method means a significant reduction in the carbon footprint of the packaging and is a brilliant way to apply recycled material" - explained company's representatives.
This innovation allows packaging to keep external aspects very similar to virgin PP. Also, all technical properties and qualities remain the same as conventionally manufactured packaging. The packaging may be decorated with offset technology without any alterations.