The high demand for RAL PLASTICS at the K 2010 trade fair in Düsseldorf has confirmed the need for binding RAL colour samples for plastics. The new colour standard by RAL, which now enables precise colour communication for plastics, was presented for the first time at the world's largest trade fair for plastics. 'The market launch of RAL PLASTICS completely met all our expectations. At the K 2010 trade fair, there was already a great deal of interest shown in the new standard by domestic and international companies,' said Dr Wolf D. Karl, CEO RAL gGmbH.
Manufacturers of plastic products, masterbatch producers and colour designers all viewed the launch of RAL PLASTICS positively: the introduction of the new colour standard eliminates the need to translate RAL paint samples into plastic. This enables the plastics-processing industry to shorten the process chain and thus save time and costs. The RAL paint samples previously used in the plastics industry were translated for RAL PLASTICS into a dedicated RAL plastic standard using a sophisticated technical process. RAL's partner for the technical implementation was the Gabriel-Chemie Group.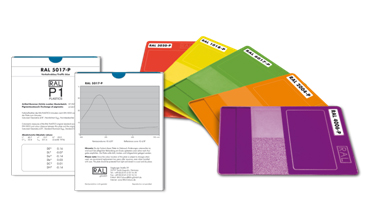 To begin with, RAL PLASTICS under the name of P1 will include the 100 most frequently requested colours from the RAL CLASSIC collection, which is the most popular range in the industry. This colour scale will then be gradually extended over the coming years, in accordance with market demand.
The plastics samples in the RAL PLASTICS collection consist of 3 mm thick polypropylene plates measuring 105 x 148 mm – the same as A6 format. Three different surface textures (high gloss polished, VDI 24, VDI 42) and three levels of material thickness – 3 mm, 2 mm and 1 mm - provide users with a realistic impression of how the colours work with different material applications.
RAL P1 with 100 plastic colour samples is supplied in a handy case. Each card has a protective sleeve containing technical data such as reflectance curve, absolute values, distance to the plastics original standard and masterbatch code.