The well-known automotive components supplier IAC Group (Krefeld, Germany) has chosen KraussMaffei as system supplier to equip the company's new production plant in Bals (Romania).
The order, valued in the double-digit million range, includes supplying and assembling systems, machinery and molds, developing, planning and design of product elements, together with a number of services.
"KraussMaffei impressed us with their outstanding expertise in injection molding and polyurethane technology. We're sure that the collaboration between IAC and KraussMaffei on this project will be characterized by mutual trust and successful outcomes – possibly extending beyond the scope of the project," commented Maurits Willaert, Vice President Operations at IAC Europe while the contract was being officially signed in Munich. "We're delighted with the trust that IAC has demonstrated by placing this major order with us.
We see it as further confirmation of our industry-leading competence as a supplier of technologies, processes and solutions," explained Dr. Karlheinz Bourdon, head of Injection Molding Machinery at KraussMaffei Technologies GmbH.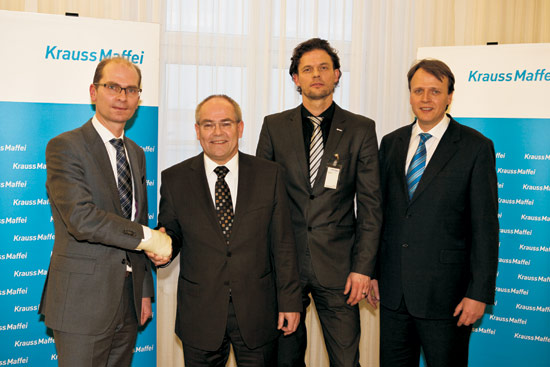 As sole contract partner for plastics technology, KraussMaffei will be supplying the new IAC production plant in Bals (Romania) with 28 injection molding machines (500 to 3,200 tonnes clamping force, plus automation), systems for polyurethane foaming and punching and the required tooling. KraussMaffei will also support the development, planning and design of product elements and provide a number of services.
"The fact that IAC has chosen KraussMaffei as system supplier for the new plant is more than simply a confirmation of our Technology3 approach to delivering application-specific process solutions;" added Dr. Bourdon, "The order also highlights our expertise in machine quality and our ability to deliver integrated production concepts."
"At an early stage, we worked with IAC to analyze the planned process sequences and now, in the implementation phase of the production plant, we're in a position to coordinate machine technologies, process sequences and materials for optimal outcomes", explained Frank Peters, head of Reaction Process Machinery at KraussMaffei Technologies GmbH. Our highly effective project management is based on seamless coordination of technology and know-how from our plants in Munich, Viersen and Harderberg to supply the injection and reaction machinery and systems, together with customized automation solutions. "KraussMaffei pursues a One-Face-to-the-Customer philosophy with very positive and advantageous results.
Although products and services are sourced from across the whole KraussMaffei Group, the customer has just one knowledgeable and reliable contact person to deal with," emphasized Willaert. Peters pointed out that, "Molds and tooling make up a substantial share of this order; this reflects the huge expertise of the responsible division, Automotive Component Systems (ACS) in Viersen and Harderberg (Germany) and also indicates that the recently completed doubling of the production area of our plant in Harderberg was a good strategic move".