Since its launch at the Fakuma fair in 2011, the gap between liquid colors and conventional batch granulates has been filled by Novopearls micro-granulate. What's more, significant increases in coloration performance can be achieved when combined with liquid colors. For the first time it has been possible to use the positive characteristics of liquid colors with higher levels of coloration (liquid colors max. 3% filling volume) while simultaneously reducing the amount of batch material added. Additionally, the liquid carrier can have a positive effect on surface quality. The spherical micro-granulate with an average diameter of 450µm is made up of a wax composition which can be extremely well homogenized with numerous plastics.
Practical Advantages for Colorful Products
Novopearls are highly pigmented, can be mixed together and have excellent flowability. A big bonus is the melting point of the micro-granulate of just 85°C. The micro-granulate melts in the molding machine faster than the plastic to be colored. This results in a rapid, streak-free homogenization of the color and the plastic, previously only achievable with liquid colors. According to Novosystems, bulk plastic materials such as PVC, PS and other technical plastics can be colored with the micro-granulate. Above all, Novopearls scores highly in terms of its cost-effectiveness, making affordable and sustainable coloration possible. As a result of optimally dispersed pigments in the wax-based granulate very small amounts of additives - between 0.1% and 0.9% are possible. Novosystems claims cost savings compared to conventional color batches can be as high as 20% to 30%.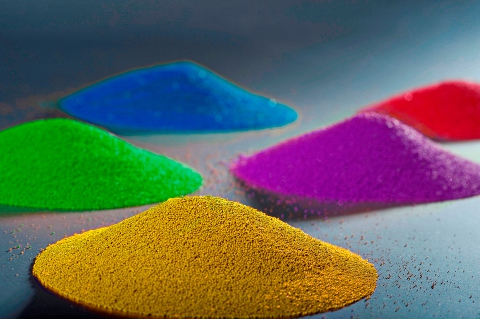 Novopearls – Factory Proven Performance
Numerous customer applications have already generated a great deal of practical experience of mixing Novopearls with liquid colors. As a result applications such as those with very thin cross-sections for the packaging industry can result in further increases in coloration. Here the user has to dose twice: conventionally via the granulate feed and granulate dosing system; and for liquid colors via a flange with a hole above the granulate feed to the extruder or injection molding machine. The possibilities for surface optimization are one of the main benefits of Novopearls. This is of particular interest to users wishing to achieve an opaque coloration effect with very thin-walled products. "Expanding our product range to smaller batches makes Novopearls increasingly attractive for injection molding applications, both as an individual coloring solution or combined with liquid colors", says Mr. Hoop. Injection molding use adds to the range of applications of Novopearls, which since the product launch at the Fakuma fair in 2011, have been in high-volume extrusion solutions. "Currently Novopearls are used in the furniture industry, packaging, toys and for the manufacture of technical components", adds Mr. Hoop.