Consulting from the start ensures good weld results
The great advantage of ultrasonic joining technology is the targeted energy input which enables an exactly defined and time-controlled melting and bonding process. However, the parts have to designed in such a way that the ultrasonic waves are focused in the joining area. The correct welding geometry on the injection-molded parts consists of points and edges in the joining area. These points or edges are called energy directors, and define the place of the first melt formation. The point contact at this place prevents a flat coupling of the components and an uncontrolled sonic transmission.
The ultrasonic provider should be involved very early on, to make sure part requirements for ultrasonics are met. This starts in the design phase of the component with the correct joint design, and also includes the choice of material and the final weld process optimization. Herrmann Ultraschall not only wants to provide its customers with a machine, but a complete solution for its application.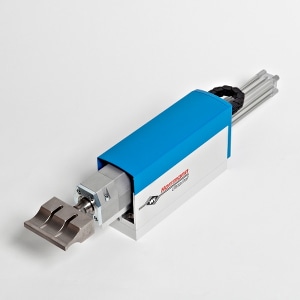 Ultrasonic VE SLIMLINE feed unit for automation
Ultrasonic applications for automotive and white goods are increasing
Lower energy consumption and short cycle times facilitate a high manufacturing speed. In the automotive industry, there are now more than 100 applications for ultrasonics, from instrument panels, to lights, to the vacuum actuator in the engine block. There are also many weld applications for ultrasonics in the area of electronics and household goods. With ultrasonics, thermoplastic materials can be welded, riveted, remolded, embedded, separated and also stamped. In a matter of milliseconds and without using additives, the ultrasonic waves create a very strong, gas and watertight bond that is visually impeccable. The low energy required means the parts are subject to very little thermal load. Hard, amorphous plastics such as PC, PS, SAN, ABS and PMMA have very favorable transmission characteristics for ultrasonic energy. Partially crystalline plastics like PA, PP, PE and POM are ideally welded in the immediate near field of the sonotrode. The welded parts can be processed immediately, allowing for ultrasonics to be integrated into automation lines without any problems.
Ultrasonic weld applications
More informations to be found on
Herrmann Ultraschall website
.