KraussMaffei is offering a new Inmould Painting process for producing LFI parts with high-gloss surfaces. A paint layer is sprayed directly onto the surface of the mould. A spray mixing head then applies a barrier coat on top of the paint. The LFI layer is poured into the mould, the mould is closed and clamped. The result is a high-strength, fibre-reinforced part with an outstanding high-gloss surface.
The new painting process is already in operation at Harita Seating Systems Limited, Hosur/India, where it is bring used to produce tractor engine covers. Harita supplies the engine covers it produces to a leading tractor manufacturer. Initially, the tractors will be marketed in India, but in future they will be exported to Europe.
The LFI process differs from other PUR processes in that the long glass reinforcing fibres are wetted with the PUR in the mixing head itself. One major advantage is the use of low-cost rovings rather than preformed glass mat. Previously the most widely used method for applying a high-quality surface to an LFI part was to apply the PUR/glassfibre backing to a thermoformed film inserted in the mould. The barrier coat process is an attractive alternative, especially for projects with relatively small production volumes or with a large number of colour variants.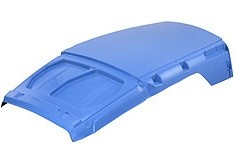 High-spec moulds
When the paint coat is applied directly in the mould, mould surfaces need to be very high quality. In this application, all mould surfaces in contact with visible areas of the engine cover are polished to a high gloss. KraussMaffei produces the moulds in its Competence Center for Tooling Technologies at the production plant in Viersen, Germany.
An alternative process is to apply only the barrier coat to the LFI parts in the mould and to paint them in a subsequent process. This option is attractive to producers who already operate a paint line. The painted or paint-ready parts can also be produced as honeycomb-core parts, where a low-weight honeycomb-structure cardboard layer is sandwiched between two thin glassfibre-reinforced PUR layers. The additional barrier coat prevents the honeycomb core being visible on the surface of the part. The chief applications for these painted fibre-reinforced parts are commercial vehicles and agricultural machinery, buses and trucks.
KraussMaffei is one of the leading worldwide suppliers of the three key machine technologies for the plastics and rubber compounding and processing industries. The KraussMaffei brand stands for comprehensive solutions for injection and reaction moulding, while the KraussMaffei Berstorff brand covers the whole spectrum of extrusion systems, including complete extrusion lines.
The company has a unique wealth of know-how across the whole range of processing methods. As a technology partner, it links this know-how with innovative engineering to deliver application-specific and integrated solutions. KraussMaffei operates a network of 70 subsidiaries and sales agencies close to customers worldwide.