New over-moulding technology from DuPont unlocks design potential for cosmetic packaging.
DuPont Cosmetics Solutions presents a new and innovative moulding technology based on the over-moulding of polymer inserts with DuPont Surlyn.
It broadens the design freedom of thick-walled cosmetic and fragrance containers by enabling the production of contrasting geometries for the internal and external walls, decoration techniques such as the encasing of label and inserts, the simple colouring of the polymer insert using masterbatch, or the application of frosted and glossy effects on the exterior surface directly from the tool.
- The multitude of design options made possible by this development is very exciting - declares Prosper Zufferey processing expert at DuPont Cosmetic Solutions. - Intricate shapes and decorative effects, such as sophisticated colours, metallic and fantasy coatings, frosted and unusual tactile properties – most of which are extremely difficult to achieve in extrusion blow moulding, are easily produced by overmoulding with Surlyn. And now, because glass has been entirely eliminated from the bottle's design, it is safer and more robust, easier and more cost-effective to produce and, last but not least, easier to regrind.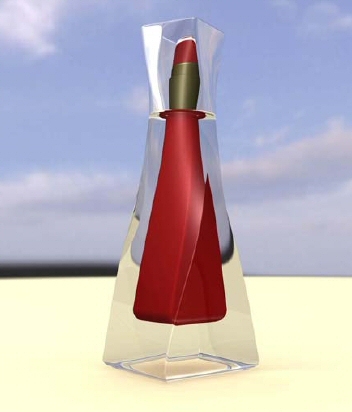 The new, patented over-moulding technology has been developed by DuPont Affiliate in Japan, DuPont Mitsui Polychemicals (MDP), a joint venture between DuPont and Mitsui. It can be used for the scrap-free production of thick-walled bottles and containers with wall thicknesses of 10 millimetres and more.
Due to the accuracy of the injection moulding process involved, used on standard machinery and with little extra investment required by the moulder, there is high control of neck diameter and wall thickness. Benefits of the new technology, as an alternative to extrusion blow moulding or the over-moulding of glass inserts, include the cost-effective production and decoration of visually-appealing and more durable containers, which are made entirely of polymer for easy recycling of waste.
- This breakthrough technology involves the encasing, or over-moulding, of a hollow polymer insert with a thick, yet lightweight, exterior wall of durable Surlyn PC 2000 - well-known in the packaging industry for providing the same transparency and feel as glass without its fragility - explains Prosper Zufferey. - We are currently working with PET or PP as the material for the polymer insert, as they provide sufficient resistance to the ingredients found in cosmetic lotions. For fragrances, the ingredients of which may be more aggressive to the container, we are working on the development of multiplayer polymer inserts produced by extrusion blow moulding.
Benefits of the use of a polymer insert, versus a glass one, include its ease of use in standard moulding tools, the material's ability to absorb the high injection pressures of the over-moulding process without the risk of breakage and its consistent adhesion to the over-moulded Surlyn. Moreover, because no glass is used in the packaging, there are no breakable parts (such as the neck) for greater user safety, while any waste may be reground for future use.