The new uniEX single-screw extruders from battenfeld-cincinnati, are multi-purpose talents suitable for manufacturing both pipes and profiles.
The machine manufacturer offers this model in four sizes, which optimally cover the medium-output range from 50 to 500 kg/h. It can process all known thermoplastic materials from PVC to polyolefins, as well as thermoplastic elastomers and engineering plastics.
With this new machine series, battenfeld-cincinnati systematically continues its product development strategy. After the twinEX twin-screw extruder series and the solEX single-screw extruder series for high-speed applications, the uniEX has now also become an integral part of the extrusion specialist's product range.
This attractive standard series with a 30 D processing length has been developed on the basis of the proven machine series from the battenfeld-cincinnati group of companies. It has been optimized on the basis of some 3,000 extruders installed worldwide and numerous proven screw geometries. A choice of extruders with screw diameters of 35, 45, 60 and 75 mm is available.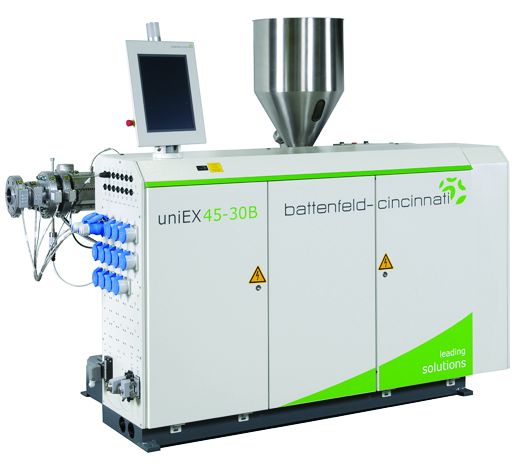 The processing highlight of the new extruders is their consistently high specific throughput at every screw speed. This is due to the extruders' special feed zone. An additional benefit of the machines from the uniEX series is the extremely wide process window, as well as the option of processing a great variety of materials thanks to specialized screw geometries. The well-coordinated extruder concept favors high throughput at low melt temperatures and consequently high process stability.
The processing units are mounted on an extremely robust basic frame in a space-saving U configuration. Thanks to their powerful drive system, uniEX extruders are laid out for handling melt pressures of up to 500 bar, while maintenance-free AC motors keep energy consumption low.
An absolute novelty are the uniform control cabinets and control units used for the first time in this series. The latter are not only extremely easy to operate, but also offer the option of having several extruders of a coextrusion line integrated in a single control system if desired.