The new 2,500 square metre building of the Indian subsidiary of Zahoransky AG has been formally inaugurated in mid November. At the new regional production site in Tamil Nadu, southern India, 60 employees manufacture assembly injection moulding machines for the Indian and Asian market. In the long term, complex automated moulds are expected to be offered and supplied from India.
The service personnel in India is already capable of handling the support and the maintenance of German moulds in India and other countries in Asia. Also, the plant in India is now the first contact for customers throughout the whole of Asia. Owing to the time difference, communication with Germany is now much easier.
The local design department is fully networked with the parent plant for mould construction in Freiburg. The construction software is linked with a team centre solution in Freiburg, with the effect that all manufacturing data can be controlled from there.
Zahoransky is therefore superbly positioned for global projects. With locations in Germany, India and the USA, customers can now be supported and served around the clock.
The new corporate building in Tamil Nadu is the first of its kind in southern India and the seventh in the whole of India which has won the "IGBC Dream Factory Platinum Award". A "green" building boasts lower water consumption and makes optimised use of energy, and so generates less waste and saves natural resources. Unlike conventional buildings, they also create healthier places for the people working there.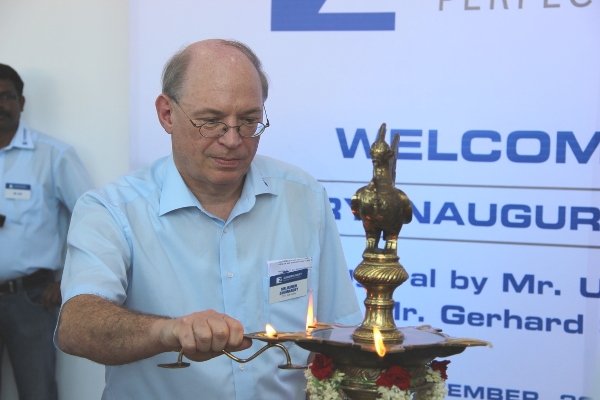 Zahoransky Group is also known for its social commitment, with far over 500,000 Euros donated over the past ten years for various projects. One example: Zahoransky donated and installed a solar unit on the roof of the primary school in the village neighbouring the new plant in India. For the first time, the school with its around 25 pupils now has electric light and ventilators for a better room climate during the hot season. Zahoransky has so prepared the ground for giving the children a better future.