Rexam has produced a stylish limited edition can for Latvian brewer Cesu Alus using registered embossing and illustration impact for its Premium Beer cans, which gives the product a completely new look and feel.
Rexam`s registered embossing technique allows customers to highlight specific details on the can, whether it be a face, logo or product name. Embossing appeals to the senses and is perfect for promotions and limited editions. Whilst illustration impact allows photo like images to be printed on cans, helping to really bring brands to life.
Cesu Alus has used an eye catching artistic design for this limited edition can helping it to stand out on shelf, and Rexam`s registered embossing enhances the look, giving it a uniqueness and providing a competitive edge. The raised design enables the consumer to become truly involved in the drinking experience.
Aimed largely at men aged 25-40, the cans have been available in all retail outlets throughout Latvia since July 2008, and will be available for at least 4 months. Cesu Alus is the first company in Latvia to use both registered embossing and illustration impact on the same can, proving that Latvian consumers are embracing new and creative drinks products. The campaign is being supported by a nationwide TV and print campaign.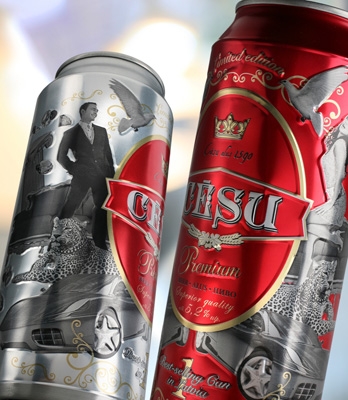 Eva Sientinsone Zatlere, Chairman of the Cesu Alus Board commented: - Having used Rexam`s embossing technology in the past, we were looking for a new way to promote the Cesu Premium brand and bring in new consumers. Registered embossing offered the perfect vehicle for this - she added. - As a leader in the beer can market in Latvia, we think the Cesu Premium beer can reflects our dedication to continuous innovation, which is key to our success.
Ann Bonner, Marketing Manager for Rexam Beverage Can, said: - We are pleased to be able to provide a technique that works in tandem with our customer`s brands. The visual and tactile elements of embossing are perfect for these limited edition cans, and we expect the campaign to be one of our most successful yet for embossing. In the tough competitive climate, the ability to stand out on shelf can make all the difference to drinks brands.