Collaboration with Amcor and R&D/Leverage creates innovative clear bottle for renu fresh multi-purpose solution.
Bausch + Lomb, the global eye health company, has unveiled a major packaging innovation into the lens care market. B+L has replaced the traditional white HDPE bottle with a clear PET container. This launch is an important paradigm shift in lens care packaging driven by consumer demand for a transparent container.
The bottle's design and development was made possible through a partnership with Amcor Rigid Plastics, the world's leading producer of PET packaging, and R&D/Leverage, known for its world-class packaging design capabilities.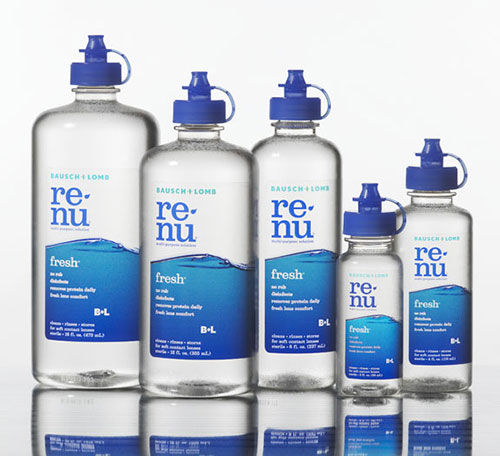 Bausch + Lomb worked with R&D/Leverage for several years to develop the clear PET bottle with rounded shoulders. Bausch + Lomb and Amcor worked extensively on optimizing the bottle's wall thickness and dimensions, thus providing a comfortable feel and proper squeezing capability for the user.
- The new package had to precisely communicate key product attributes -- the feeling of wearing a fresh pair of lenses cushioned in moisture - says Daryl DuLong, global product manager, lens care Bausch + Lomb. "With R&D/Leverage's and Amcor's support, we are changing the industry, which has long been dominated by contact lens solutions packaged in that ubiquitous white bottle and white label -- packaging that has grown stale.
A clear, polyolefin pressure-sensitive label replaces the previous white label and enhances the appealing see-through look. A special texture was added to the bottle design, to facilitate high-speed production and to enhance end-user ergonomics.
- This was a true collaboration - said Larry Schumacher, national account manager for R&D/Leverage. "We worked engineer-to-engineer, in our U.S. and UK facilities, with intensive communication back and forth, every step of the way, to make sure each element of the project was perfect."
The renu fresh bottles are made of a healthcare-approved grade of PET. They are blow molded and then transported directly to a clean room where they are packed and then shipped to Bausch + Lomb.
- After extensive testing and refinement, we were able to achieve very tight wall tolerances that far exceeded the typical PET bottle - said Matt Curtis, Amcor's Southeast regional account manager. - Through proper material distribution, we developed an optimum wall thickness that
enhanced the consumer experience.
The custom PET bottle will also be a key element of Bausch + Lomb's new renu lens care portfolio. The PET bottle features a snap-on cap and is available in 2oz, 4oz, 8oz, 12oz, and 16oz sizes. Bausch + Lomb said it plans to use the clear PET bottle as a new platform for future lens care products.