Additives innovator Milliken & Company puts the energy saving potential of its Millad NX 8000 clarifying agent for polypropylene (PP) at fingertips with the launch of the Millad NX 8000 Savings Calculator App.
The free App is the first of its kind to allow the industry to calculate potential energy savings, and estimate cycle time and CO2 reductions by using Millad NX 8000 clarified polypropylene versus traditional clarified PP to produce clear PP parts.
Numerous trials carried out by Milliken have proven that Millad NX 8000 can regularly yield cycle time reductions of as much as 15%, while the ability to process it at lower temperatures than other clarifying agents can often cut energy consumption by 15-20% - and in some cases by over 30%.
The Millad NX 8000 Savings Calculator is now available in iTunes here for the Apple iPad and (by end of June) iPhone and can also be accessed on PCs and tablets via. It is suitable for use anywhere in the world, giving users access to quantitative data on achievable savings specific to their product and processing equipment.
Material and process parameters can be compared, in graphic and numeric form, between default and optimized results. Settings on the Savings Calculator can be adjusted to local currencies and energy prices to indicate local user savings – a valuable feature as energy prices in some countries, for example Germany and Italy, are significantly higher than in others. Real-life case studies also present data of savings from existing products.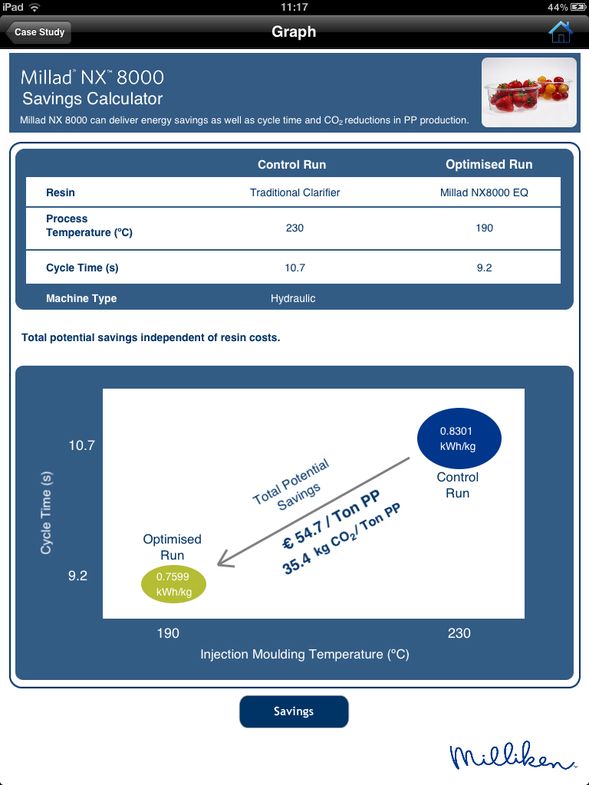 Environmental effects are expressed directly through reduction of CO2 emissions, as well as in indirect terms, such as how many cars would emit the same amount of this greenhouse gas in a year, how many acres of forest would be required to absorb the same amount, and the total power consumption of how many households it equates to.
"Many people know Milliken as an innovator in plastics materials technologies," says Wim Van de Velde, global Millad Product Line Manager, "now we are innovating in a rather different way, but still focusing on customer benefits. Apps on mobile devices are no longer just games for kids, a large number of our customers already use iPads at work as well as at home, and we believe they will quickly appreciate the benefits offered by our new App."
"Brand owners can now make an immediate calculation of the per brand or per part reduction in CO2 emissions possible with Millad NX 8000 clarifying agent, to get a clear idea of the contribution of Millad NX 8000 resins to their overall sustainability targets," continues Sami T.K. Palanisami, Milliken's Marketing & Sales Manager Plastic Additives EMEA.
"This App provides a revolutionary, simple-to-use supporting tool to help our customers in their decisions about cutting costs and reducing the carbon footprint of their products," concludes Chai Mui Teck, Sales Manager Asia, at Milliken.