Swiss injection moulding machine manufacturer Netstal will be presenting its durable and well-established SynErgy injection moulding machine at the Interplastica international plastics trade fair in Moscow at the stand of its representative, Textima Export Import GmbH. The excellent performance of this machine series will be clearly demonstrated using a typical thin-wall injection moulding application.
The exhibited SynErgy 1200-460 will be demonstrating a typical application for this series: namely, the production of thin-wall glacé containers from Borealis PP in a cycle of just 3 seconds using a 2+2 cavity mould from Swiss mould manufacturer, AWM Mold Tech.
Moreover, during the actual injection moulding process, the packaging part will be labelled using IML (In Mould Labelling), with labels placed directly into the mould using a handling system supplied by Ilsemann, Germany. The subsequent stacking process is similarly taken care of by this handling system. Equipment from Motan, provides the raw material feed, while Swiss company ef-cooling/Ernst H. Furrer AG takes care of the cooling process.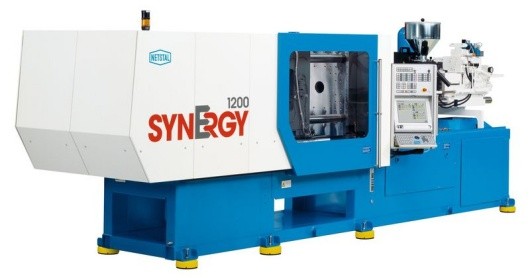 This typical thin-wall injection moulding application reflects Netstal`s system expertise, a factor that the Swiss injection moulding machine manufacturer has been capitalising upon for years. Additionally, customers benefit from Netstal`s long-standing experience and enjoy the advantage of being able to call upon a global distribution network that ensures the rapid provision of optimal, highly professional advice.
Netstal supports its customers throughout the entire course of the project, ultimately allowing it to offer customer-specific key solutions. It is for these reasons that Netstal`s definitive and comprehensive system integration service is so highly regarded.
Netstal-Maschinen AG based in Näfels in the Canton of Glarus is one of the biggest global injection mouldings manufacturers. The company employs a staff of around 600 persons in Näfels and around 800 worldwide.
This year Interplastica will take place in Moscow from January 29th to February 1st.