The fully renewed series will be the centrepiece of an open house event this coming 18-19 th February.
Keeping one step ahead of the market: that's the secret of maintaining leadership. It's also the reason why Negri Bossi – a Sacmi Group company specialising in the design and production of thermoplastic injection moulding presses– has decided to develop a series of "full electric" presses, completely renewed in terms of both technology and design.
This event, offering a more in-depth look at the innovative range of machines, is set for this coming 18 th and 19 th February: a new "open house" that comes at the end of a series of meetings designed to complement the new path being taken by this Milan-based company: from a brand new production plant to renewed output aptitude, and a range that has, since the end of 2009, been redesigned from top to bottom.
Negri Bossi's history is one of enormous success. This is especially true of the hydraulic and hybrid series developed by this Sacmi Group company, which hasachieved international leadership status on global moulding markets. Vesta has drawn on an outstanding wealth of experience, gained with the first full electric series that began being developed in 2002 to meet new, pressing market needs (i.e. lower consumption, even if that meant, in the case of the full electric series, an initially higher investment outlay).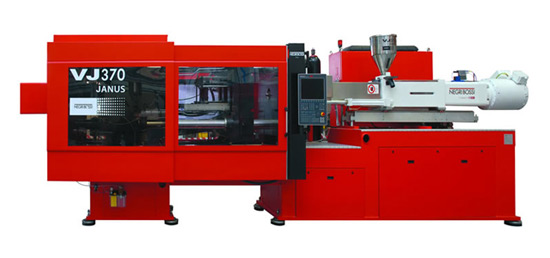 A challenge well worth rising to, believes Negri Bossi: now is the time to put all the recent years of experience with electric presses to profitable use by offering the market something completely new, already glimpsed in Düsseldorf last November and now the showpiece of a dedicated 2-day event aimed at a wider public. Perhaps, who knows, visitors already familiar with Negri Bossi presses and their highly successful hydraulic and, subsequently, hybrid technology models; the latter constitute a segment that makes the Negri Bossi range the world's most unique.
The new Vesta series buzzwords are durability, reliability and efficiency. Available with clamping forces from 800 to 4300 kN, with injection capacities from 94 to 1190 cm3, Vesta stands out on account of its excellent mould units, driven by a direct-control torque motor and mechanics derived from the ultra-reliable hydraulic range and recent experience gained with the Janus hybrid line. The injection unit is fully innovative, designed with two due recirculating ball bearing screws to reduce on-screw load, extend working life, enhance reliability and make maintenance easier while making the press more compact.
Five working models will be on show at the open house event: three from the all-new Vesta series plus two from the tried and tested Janus and VSE hybrid series. The target market remains a 'high added value' one, with applications spanning from medical to food packaging. A great opportunity, then, to admire the new machines at work and, once again, enjoy the welcome of a company that has, over the last ten years, had the courage to look to the future and meet the challenges of the fast-changing moulding market; that approach has paid dividends and Negri Bossi is now set to achieve - thanks to the innovation and technological excellence that, with Vesta, are ever-more synonymous with productivity and reliability - further success.