New Kortec Connect Solution
The Kortec Connect system offers customers the same patented, proprietary Kortec co-injection hot runner designs and combines it with Mold-Masters proprietary E-Multi secondary injection unit, allowing molders a cost-effective entry into co-injection molding. Milacron's highly specialized co-injection engineers work hand in hand with customers to customize the Kortec Connect solution for their specific application. Our dedicated team of engineers collaborates with customers on their existing equipment via comprehensive system audits to optimize machine functionality. Once completed, our team of engineers personally ensures that the system is up and running with their new co-injection capabilities.
Kortec Complete Solution
Milacron will continue to offer the complete turnkey solutions under the Kortec Complete brand for customers looking to purchase the industry's best complete co-injection system and generate the highest possible overall performance and output. Kortec Complete offers customers the simplicity of a complete co-injection cell with a customized premium F-Series injection molding machine with 2 shot capabilities built right into the machine and the Kortec hot runner melt delivery technology. With more complete co-injection systems in the field than all other competitors combined, Milacron is able to provide the industries' best engineering, system and service support.
Milacron Co-injection Support and Service
As the industry leader in co-injection technology with over 30 years experience, Milacron knows what it takes to keep a co-injection system running at peak performance. Milacron offers a comprehensive service, support and dedicated spare parts program for all nozzle applications and key co-injection components ensuring prompt response and fulfillment when required. World-class post-sales service and support is a cornerstone of Milacron.
About Milacron Co-injection Technology
Milacron Co-injection Molding multi-layer technology now branded as Kortec Connect and Kortec Complete is designed to meet the plastic industry's need for barrier technology that can be delivered with the same high-volume production efficiency and cycle time as a monolayer part. Milacron Co-injection molding addresses key needs in the industry, including the economical use of barrier materials, customizable barrier properties, precise barrier placement and uniform distribution. Kortec technology offers flexibility of barrier placement and distribution and the ability to mold features into a barrier part design that other processes such as thermoforming cannot.
Milacron Co-injection molding uses a proprietary, simultaneous co-injection process with every system. This process allows the cavity to be filled in exactly the same amount of time as a monolayer injection molded part. The "heart" of each system is the Co-injection melt delivery system featuring Kortec technology. The melt delivery system has separate streams (flow channels) for skin (the inner and outer layers) and core (the middle barrier layer) materials.
Milacron Co-injection molding's patented, proprietary co-injection nozzle designs allow two different resins to be combined in a single 3-layer melt stream. Two flow streams are joined at each patented co-injection nozzle resulting in a single, combined 3-layer flow stream through each gate, into the mold cavities. The result is total control and the ability for customization of the barrier layer placement and thickness.
Milacron's multi-layer packaging technology is backed by over 30 years of experience and has dedicated engineering, service and project management teams to deliver and continually advance the technology. Existing Milacron Kortec Co-injection systems have been successfully used on a number of products such as single-serve coffee pods/capsules, thinwall packaging, PET performs, medical vials and bottles and Milacron Klear Can.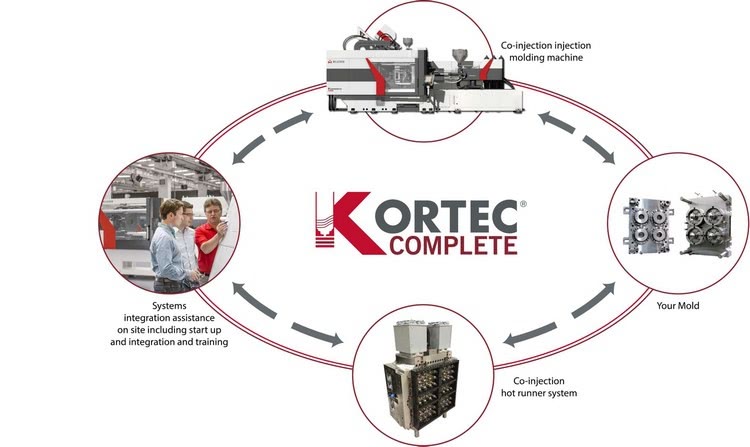 Source: Milacron