Maplan presents their three latest compact and energy-efficient developments.
Maplan's new "technical highlight" is, according to technical division manager Rudolf Eisenhuber, the vertical elastomer injection-moulding machine MTF400/100edition that injects from top and is equipped with a Cool Drive II.
The vertical edition-series now comprises a total of seven models: 100, 160, 250, 320, 400, 650, 800 tons clamp force for the "edition" and "editionS" designs respectively. A new addition to the range is the 3.200 kN machine. The other two exhibits not only show corner vulcanisation with rubber and possible corner over moulding with TPE, but also the future potential for the automation of elastomer applications, as Eisenhuber states.
Maplan's innovation has earned them a very high regard in the elastomer industry along with their ability to follow a trend in elastomer processing: "Especially in the case of automotive work we can acknowledge the increasing importance of TPE and an increase in TPE applications in general. With energy-efficient and compact solutions as standard – we try to do both worlds justice and to set new standards for injection moulding and vulcanisation," explains Rudolf Eisenhuber.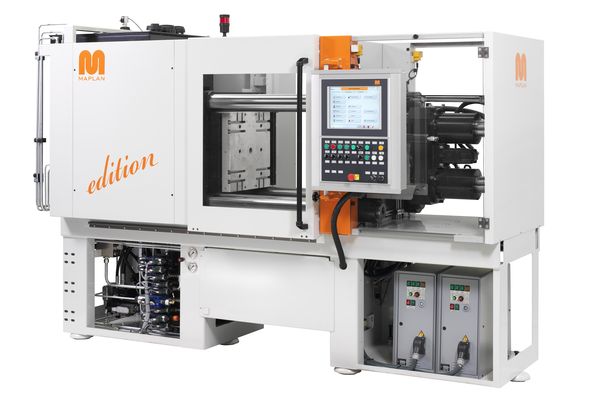 Vertical machines with high repeatability
The MTF400/100editionS, exhibited in Nuremberg, illustrates what the elastomer experts from Austria are all about. A high-precision FIFO-injection unit with a shot volume of 400ccm guarantees outstanding shot precision and a consistent L/D – ratio. The very short nozzle ensures maximum injection pressure directly at the tool. Furthermore, it is cooled, so nozzle retract is not required. The retractable plasticising unit simplifies every change of material. With a footprint of only 2.3m² and a clamping surface that has been increased by 20%, the footprint-optimised 'edition' series offers high performance coupled with low space requirements. However, the emphasis is on energy-efficiency.
The servo-hydraulic CoolDrive II, already standard equipment of the 'editionS' version, enables energy savings of up to 70% when compared to conventional machine drives. Even the noise level of this drive concept sets new standards. The energy saving versions of DCI tempering devices guarantee the optimum temperature control of the tool throughout the cycle. The machine is also equipped with the unique process optimisation system Cure² that drastically decreases the heating time during the process. Cure² analyses and optimises all relevant process parameters for the operator: tool tempering, cold-runner temperature, plasticising cylinder temperature, dynamic pressure, holding pressure and screw speed. This results in a consistent part quality. The new machine controller PC5000touch V3 will be presented with new features in Nuremberg.
"We're proud of our controller, not just because of the Cure² interface. In general, the controller is very transparent and easy to use. New features include: multi-media support, a new online diagnosis, a cleaning function and an additional statistics function. This allows an optimum diagnosis. Our latest version unites precision with high repeatability and makes a machine from Maplan absolutely reliable," explains Rudolf Eisenhuber.