At Fakuma 2015 Lindner ReSource, a leader in the field of shredding technology for the plastics industry, will introduce the new Apollo 1900, a high-capacity, high-performance addition to their range of versatile Apollo single shaft shredders. Thanks to its extended rotor length of 1900 mm, the new system is specifically suitable for users who are handling high material volumes or for shredding large-sized pieces or baled materials.
Across all machine sizes of the entire Apollo series – including types 700, 1000, 1300, 1600, and 1900 – the rotor diameter is a uniform 370 mm. This facilitates the cost-effective shredding of varying product waste down to defined granulate sizes. While Lindner's universal-use "profiled rotor" is a perfect choice for moulded parts, tubes, shapes or film, the alternatively available "square blade rotor" has been developed specifically for shredding sheets and start-up lumps.
Launched in the market in 2014, the Apollo line of plastic shredders has already today evolved into the most sought-after product in Lindner reSource's portfolio. Asked for the decisive reasons for their purchase, users keep mentioning the high operating reliability and safety of these machines, their particularly simple operation and maintenance, and the numerous equipment options enabling them to tailor each system to their specific material needs.
As an example, the sliding hopper developed by Lindner can be pushed back hydraulically so that the cutting chamber becomes accessible over its full length and width. This facilitates cleaning, and the blade change can be performed conveniently from the exterior – i.e., there is no need for an operator to climb into the hopper to change the counterblades, avoiding the risk of personal injury. Further advantages include the standard segmented bottom of the cutting camber which helps to prevent jams, and the modular screen system that supports quick and easy screen changes.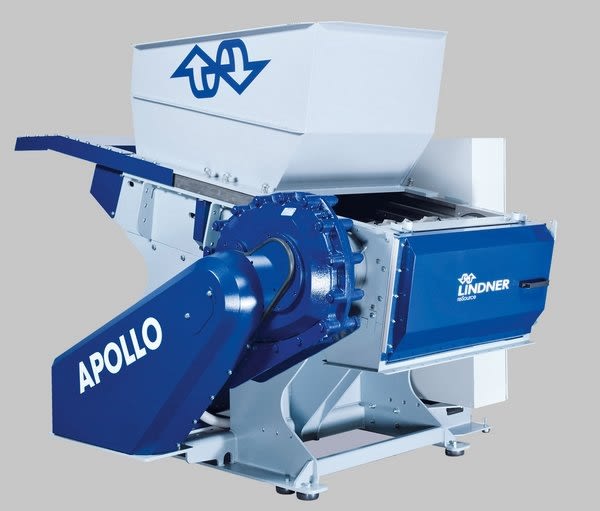 Harald Hoffmann, managing director of Lindner reSource, notes: "For our customers, the Apollo plastic shredders prove an economically and ecologically attractive investment. These machines have a relatively short payback period, as our consistent use of high-grade materials and components results in a high reliability and availability rate in addition to low maintenance needs. And what's more, their low energy demand helps to protect the environment and to save operating costs. It was therefore an easy decision for us to launch the new 1900 model with a view to meeting the market's brisk demand for even higher shredder throughput rates."
Lindner ReSource will be exhibiting their Apollo line-up at Fakuma 2015 in hall A6, booth A6-6108, sharing this venue with Lindner washTech who will be presenting their portfolio as a manufacturer of turnkey washing systems for plastic recycling applications.
The Lindner Group headquartered at Spittal/Austria was established in 1948 as a mechanical engineering and equipment construction company and has evolved into a competent supplier of shredding technology for industrial applications. Employing around 300 people, the Lindner Group specializes in the development, manufacture and sales of complete lines and machines for producing alternative fuels. Subsidiaries in Raleigh/SC and Atlanta/GA support Lindner's activities in North America.