Rising numbers of articles in the food and beverage industries are rendering the order-picking process ever more complicated. Efficient solutions are needed. For this reason, Krones has developed a modularised, automatic order-picking system – known as EOP System A – for the food and beverage industries.
From homogeneous pallets, each with a different stock-keeping unit, mixed pallets are automatically formed, each stacked with several different articles in accordance with customers' purchase orders, for subsequent dispatch to supermarkets, shops or filling stations.
The system can, for example, put together up to 400 different articles (SKUs) at a speed of 4,000 units an hour, enabling a huge number of packages to be handled at high outputs. With manual or (for high speeds) automatic layer depalletising, product pallet stacks are disassembled and the packs transported to homogeneous pack buffers. Special optimisation software computes efficiently stackable layers for stable transportation units, enabling the individual packs to be cycled out of the pack buffers in the correct sequence.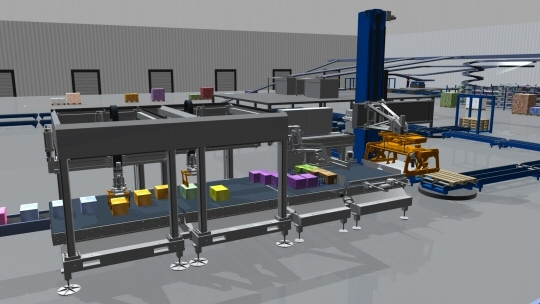 A logical pack tracking feature, underpinned by visual checks, ensures the correct sequence on the pack conveyors to the order storage lanes, from where they are withdrawn before being oriented, positioned and pregrouped into the requisite layers by the Robobox pack grouping system. The pallet stacks are then put together by the Modulpal layer palletiser, whereupon they are wrapped, labelled and made ready for dispatch.
This automatic order-picking system has been developed by Krones for tough operating conditions using standard components based on state-of-the-art machinery and information technology.