KraussMaffei has reworked its successful CX small machine series in the clamping force range of 350 to 1600 kN and consistently taken advantage of every opportunity to increase efficiency. Customers will benefit in the future from low expenses for energy, space, time and materials, gaining important competitive advantages in the process.
Cost-effective and flexible
From hydraulics to control software to automation, almost every component in the tried-and-true CX machines in the small clamping force range was subjected to testing and numerous improvements were defined. "The CX series is already a successful product line. Our goal was to align this series more consistently with customer needs. Plastics processors should have the option of producing plastic with outstanding cost efficiency and flexibility," explains Dr. Hans Ulrich Golz, President of the Injection Molding Machinery segment of the KraussMaffei Group.
The new CX in the series of small machines up to 1600 kN has now become top of the class thanks to a large number of individual innovations. "We were in fact able to technically implement all of our customer requirements: 10 percent less energy, 15 percent faster, 30 percent quieter, oil volume reduced by 20 percent, and 25 percent greater efficiency thanks to automation and faster set-up times means 100 percent added value for the customer," says Dr. Golz. Additional highlights specifically for small machines include the new sprue picker, the ejector coupling and the BluePower Vario Drive concept. Like all machines from KraussMaffei, the new CX is equipped with the new Adaptive Process Control system (APC), which can immediately compensate for fluctuations in the injection molding process.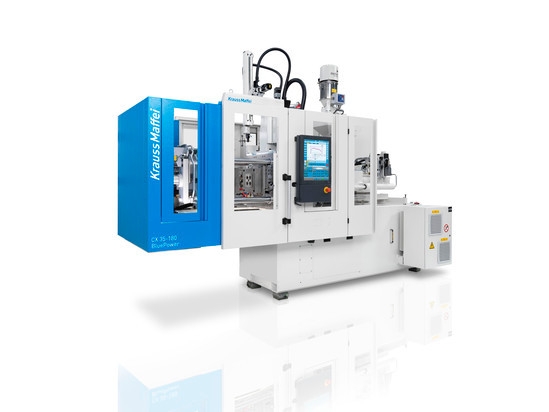 Space advantage: two-platen design and new sprue picker
The two-platen design of the CX takes up less installation area than longer three-platen models. In addition, a cantilevered clamping unit provides enough space underneath for mold temperature controllers and conveyor belts. The extremely compact manufacturing cell is also ideally suited for use in locations such as cleanrooms.
The new servo sprue picker from KraussMaffei's automation division also features a very compact and stable design. The telescoping stroke makes the picker particularly well suited for use in low halls. It forms one unit together with the machine, providing the most space-saving solution on the market as a result. The detached sprue is stored within the standard machine's housing. This means that a side expansion in the form of a protective fence is not necessary. This way, four machines can be installed in the same installation area instead of three. The servomotor enables the sprue picker to operate extremely fast and saves on maintenance time and expensive compressed air compared to wear-prone pneumatic drives. The MC6 control system and the optimized parked position for the mold change round out the user-friendly features.