BOY follows the trend of the Fakuma's exhibition motto "energy efficiency" by presenting a servo-motor pump drive.
This new drive technology reduces energy costs up to 50%. In addition, machine noise is reduced by 20%, and the machine dry cycles 10% faster. - A machine equipped with servo-electric drives for pump and screw is the concept of the future. It combines the advantages of both hydraulic and electro-mechanical machines. As shown in our illustration, the positive features of this technology outweighs electro-mechanical and fully hydraulic machines - says Alfred Schiffer, Managing Partner at BOY.
The servo-electric driven pump motor controls the throughput rate of the hydraulic pump, depending on the RPM. When no pump capacity is needed, the motor switches off and no longer requires energy.
The motor restart is accomplished without delay. The energy savings are significant, so almost no heat needs to be evacuated. Oil temperature control is the only function that is maintained. Energy efficiency matches the values of electro-mechanical machines but without the inherent disadvantages such as wear, high investment and spare parts costs, and high-connected load.
Additional advantages of this new technology include a quieter operation environment and almost a doubling of the kinetic dynamics, with nearly a 10% reduction in dry cycle times.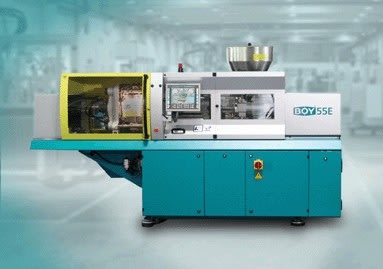 BOY is the sole European manufacturer of injection moulding machines to offer this technology. The BOY 55 E and BOY 90 E injection moulding machines (clamping force 550 kN, resp. 900 kN) are equipped with this technology. Compared to standard hydraulics with electronically controlled, variable displacement pump, the surcharge price is low.