Huhtamaki`s BioWare range has been extended to include bio-coated paperboard packaging for ice cream and chilled dairy products such as yogurt.
The BioWare packaging range is the perfect answer for the increasing demand from brand owners and public for more sustainable packaging options. The paperboard cups for chilled dairy and yogurt applications are double side coated with biopolymer and come with similar performance characteristics as standard PE-coated paperboard packaging. The cup`s side seam is edge taped with biodegradable material for absolute product safety and also to prevent unattractive fruit discoloration migrating into the board in the seam area.
Ice cream containers and spiral wound lids are made of paperboard that is single-side biopolymer coated. The products are as strong and rigid as their PE coated counterparts. Huhtamaki`s Flexibles division is currently developing heat sealable and biodegradable lidding film solutions for the cups.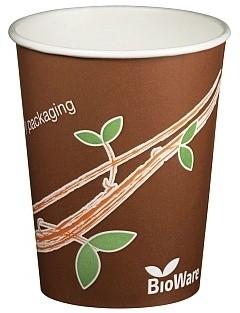 Paperboard provides excellent customized printing and promotional options with high-quality printing technology. Each customer`s packaging looks individual and easily catches the consumer`s eye in the supermarket. Biodegradable paperboard packaging enables brand owners to communicate their environmental credentials and consumers prefer packaging they can dispose of safely. Furthermore, paperboard is a material naturally associated to be the sustainable choice.
Huhtamaki`s BioWare range was originally launched in 2004. All products qualifying as part of the range have to be completely compostable according to the EN 13432 certificate. The bio-coating allows paper packaging to be composted in industrial composting facilities. The virgin fibre raw material sourced by Huhtamaki in Europe is FSC Controlled wood and PEFC Chain of Custody certified in order to guarantee that it originates from legal and acceptable sources.
BioWare is a range of packaging products that are primarily made of renewable plant materials. All BioWare products are certified in accordance with EN13432, the European norm for compostability of packaging. When disposed of in industrial composting conditions, BioWare products compost into water, carbon dioxide and organic material. The entire chain, from raw material input to production and disposal, has been designed to have a minimal impact on the environment.