New printing variants provide for high-quality packaging decoration in an attractive price segment.
Greiner Packaging is completing the classical dry offset printing method using print-relevant optimisation. Robert Obermayr, K1/K2 Product Group Director at Greiner Packaging International claims, "With K1 plus we are enlarging our offer oriented towards market and sustainability. Our customers profit from an economically interesting alternative to decoration technology like sleeving and labelling."
With the term "K1" Greiner Packaging defines cups made of plastics combinations classically decorated with dry offset printing. Now, this technology has been enlarged by new printing variants. Altogether they are called "K1 plus".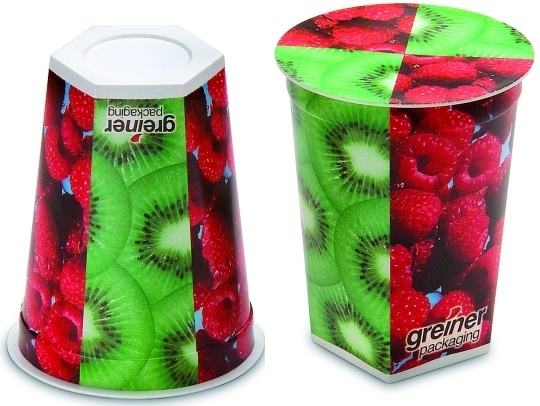 Using a modern 8-colour offset printing unit in combination with individually manufactured laser clichés provides for a brilliant printing image quality. Whilst doing so, Greiner Packaging employs digital printing plate exposure (computer to plate). The printing plates are lasered directly from the computer. As a result, in addition to print quality, reproducibility is raised too. Obermayr adds, "Apart from an excellent printing result, this technology allows for a further significant customer benefit: Concept, development, cliché and print come from a single source reducing implementation times and offering very swift project management."
New printing possibilites: convex areas, shining clear lacquer, highlighted print images or lettering.
With an 8-colour offset printing unit Greiner Packaging now offers printing of double-curved areas, e.g. convex cups. Due to its shapes combined with high-quality print quality, convex cups yield a high degree of differentiation at Point of Sale. Another printing variant is using clear lacquer. It can be applied selectively or like full-bleed and lends the printing image higher luminosity. Only a single working process is required to highlight the printing image or the lettering in white on transparent cup, which shows the motif and lettering to their full advantage.
The innovative soft touch effect aims primarily at the stimulation of consumers' tactile senses. A slightly matt surface creates sympathy for a product from the first touch.