At the Elmia Polymer 2015 in Jönköping, Sweden, Arburg can be found on Stand A03.10 in Hall A. There, from 21 to 24 April, the entire spectrum of plastic parts production will be presented – from one-off parts to mass-produced items. The Freeformer demonstrates how functional one-off parts and small, multiple-variant batches can be produced using the Arburg Plastic Freeforming (AKF) process. The European sales launch of this innovative additive manufacturing system took place in April. The automated production of mass-produced items is demonstrated by a hybrid Allrounder 470 H and the Multilift Select robotic system.
"The Elmia Polymer is our most important trade fair in Scandinavia. Now that the injection moulding machine market there has significantly revived, we expect large visitor numbers from Sweden, as well as from Denmark and Norway," says Stephan Doehler, Arburg's European Sales Director. "Furthermore, we will be presenting the Freeformer for industrial additive manufacturing as this year's highlight. This innovation has been available on the Scandinavian market since April."
Freeformer additively processes two components
With the Freeformer, fully functional plastic parts can be additively manufactured from standard granulate using the patented "Arburg Plastic Freeforming" process based on 3D CAD data, without the need for a mould. As with injection moulding, the granulate is first melted in a plasticising cylinder. Plastic droplets are applied layer-by-layer onto a moving part carrier via the nozzle of a stationary discharge unit, using high-frequency piezo technology at a specified duty cycle of 60 to 200 Hertz.
The second discharge unit can be used for an additional component – for example, to produce a part in different colours, with special tactile qualities, or as a hard/soft combination. At the Elmia Polymer, a Freeformer will combine standard ABS with a special support material, to produce a key fob with an articulated joint. The supporting structures are simply removed later in a water bath.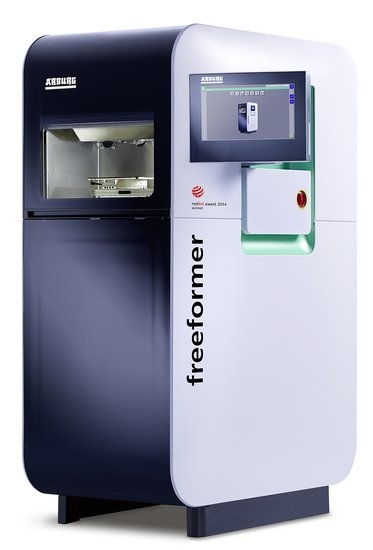 Cost-effective entry into automated production
In Scandinavia, Arburg technology is particularly widespread in medical technology and technical injection moulding. Using a small parts box as an example, Arburg demonstrates the high-quality, fully automated and cost-effective manufacture of standard products. The compact production cell is built around a hybrid Allrounder 470 H with a clamping force of 1,000 kN and a size 290 injection unit. The cycle time for the 33.5-gram moulded part is ten seconds. Parts handling is performed by a vertically operating Multilift Select robotic system. The automation solution comprises not only the machine and robotic system, but also a complete production unit including safety enclosure with electrical connections, conveyor belt and CE certification.
Hidrive series: high production capacity
The Hidrive series unites electric and hydraulic components from the Arburg modular system. The hybrid Allrounders combine servo-electric toggle-type clamping units with hydraulic injection units and performance-adapted hydraulic accumulator technology to create a high-quality machine concept. All Allrounder H machines bear the Arburg "e²" energy efficiency label as an indication of their extremely energy-efficient operation.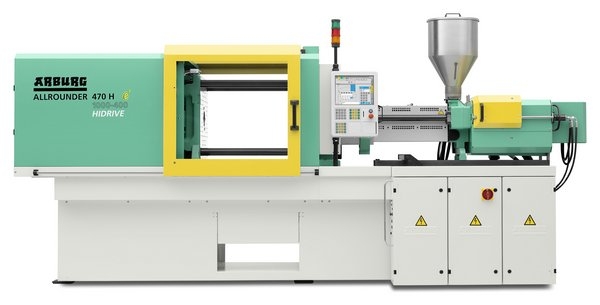 Cost-effective automation solution
The Multilift Select is the entry-level model among the linear robotic systems from Arburg. It features servo-electric drive axes and is fully integrated in the Selogica machine control system. For the user, this means: only one data record, familiar approach during programming and perfect synchronisation of robotic system and machine. Moreover, the Multilift Select is extremely simple to program thanks to the teach-in function. The advantages of this strategy are evident. Programming times and changeover procedures are effectively shortened, handling sequences are more reliable overall and training expenses are much lower.