With 25 percent more output and 65 percent less energy consumption, Engel medical is setting new standards for Petri dish production.
A fully electric, automated Engel e-motion 1340/280 T will put this to the proof at the Medtec Europe from 22 to 24 March in Stuttgart. For the first time ever, the Schwertberg injection moulding machine manufacturer Engel will be demonstrating its excellent system competence in medical technology at the Medtec fair.
Petri dishes belong to the standard consumables in biochemical laboratories. They are used to cultivate microorganisms and for cell cultures. These applications require great material transparency, a smooth base and high purity. Together with four partners, also all leaders in their fields, Engel has developed a complete system solution for the fully automated production and packaging of these demanding laboratory products.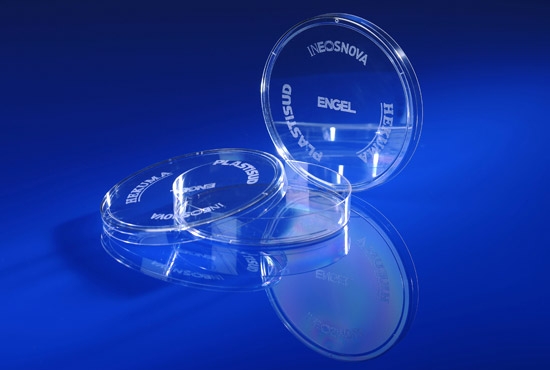 The high-performance system celebrated its premiere at the K2010 in October in Düsseldorf. The fully electric injection moulding machine Engel e-motion 1340/280 T is predestined for applications in clean rooms with encapsulated drives, sealed joints, smooth surfaces and an encapsulated barrel. Polystyrene is used to create eight covers and eight bases of the Petri dish in a 3.7 second cycle with an 8+8-cavity mould made by Plastisud.
Cycle times lie at 4.5 seconds with the usual machine engineering. During a mould open time of 0.6 seconds, the parts are removed fully automatically in pairs, covers and bases are fitted together, finished dishes are stacked and packed into tubular bags. The complete production area of the fair exhibit is encapsulated as a clean room, including assembly and packaging, thus ensuring 100 percent product protection. The project partner for the clean room technology is Alpha Ionstatex, while the complex automation, which also comprisesintegrated quality testing, is provided by Hekuma. Project partner Ineosnova is the polystyrene supplier.
In addition to the excellent short cycle time, the high-performance production cell also scores with a particularly low energy consumption. Thanks to the use of a fully electric injection moulding machine, the energy costs compared to production with a normally used hydraulic machine can be reduced by up to 65 percent. At an energy price of 12 cent/kWh, this corresponds to a saving of 30,000 Euro per year.
Maximum product safety, absolute cleanliness and precision, seamless documentation and traceability - no other branch sets greater requirements than medical technology. But just as important as the technical requirements is trust in the partner on the supplier side.
This is why a separate business unit at Engel is solely dedicated to the users in medical technology. On the basis of its in-house clean room at the Schwertberg works and a series of resulting machine concepts for clean room use, Engel has acquired extensive experience and competence with clean rooms. In cooperation with renowned partners, Engel medical offers complex clean room system solutions from a single source – from the machine via automation, moulds and peripherals to the PDA system.