With Liquidmetal, Engel opens the door to completely new classes of material and product characteristics; metal alloys can now be efficiently injection moulded. As the exclusive machine manufacturing partner of Liquidmetal Technologies from Rancho Santa Margarita, California, USA, Engel is the only provider worldwide to offer system solutions for the injection moulding of Liquidmetal materials. The machine manufacturer will present this technology to the public at the Engel Symposium 2015 from June 16th to 18th in St. Valentin and Linz, Austria, for the first time.
Components with completely new characteristics
Liquidmetal stands for a class of material with completely new characteristics. The zirconium alloys feature an amorphous, i.e. non-crystalline, structure, which is why they are referred to as metallic glasses. Components made from these materials are extremely hard, but at the same time very elastic, which leads to very good recovery behaviour. For example, the elasticity of steel is 0.2 percent and for titanium it is 1 percent, while the value for components made of Liquidmetal alloys is 2 percent. In addition, the materials are characterised by their low specific weight and excellent corrosion resistance. This range of characteristics predes-tines the alloys for use in precision components which are subjected to high mechanical stresses.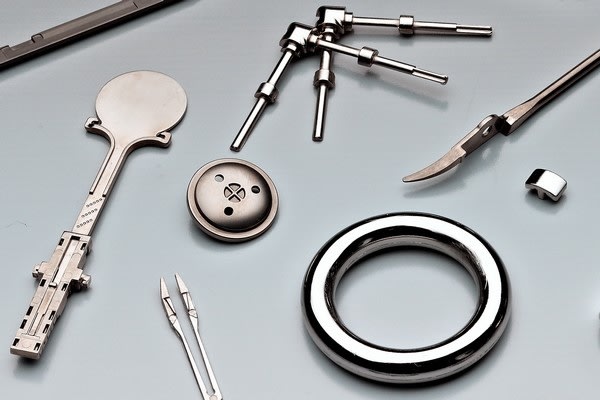 New machine technology with standard robotics
In order to process these materials using injection moulding, Engel has developed a new injection moulding machine based on the tried and tested all-electric machine series Engel e-motion. The difference between a Liquidmetal machine and a conventional injection moulding machine for plastics processing lies mainly in the injection unit. The Liquidmetal alloys are available in the form of slugs cut from round rods. These blanks are automatically fed into a melting chamber where the material is melted inductively under high vacuum conditions. Instead of a screw, the machine has a piston with which the molten metal alloy is in-jected into a thermo-regulated mould. Very rapid cooling under exclusion of oxygen leads to the forming of the amorphous structure, which is responsible for the outstanding characteristics. Standard robots – for example from the Engel viper series – are used to remove the finished parts. The sprue can for example be removed with the help of a water-jet cutting machine or mechanical shears.